2015 Toyota Hilux Will be Even More Powerful And More Confident

Toyota team is ready to take the HiLux mode to the next level with the premiere of the latest next-gen model. The global debut will be staged simultaneously in Australia and Thailand and what the latest HiLux model has to offer is advanced safety, comfort and convenience features. Additional features will include an even stronger frame, four powerplants, improved towing capacity and payloads of up to 1240kg. And as always, Toyota team will demonstrate a vehicle with even better off-road performance, compared to the old model, upgraded suspension and handling. Toyota Australia's execute director sales and marketing Tony Cramb is convinced, that the HiLux will continue the proud tradition to demonstrate what unbreakable means.

Drivetrain system
The latest HiLux comes with a 2.8-liter engine, that offers 450 Nm of torque, while the 2.4-Liter brings 400Nm. In both cases the fuel consumption is optimized with about 10 per cent, compared to older models.  Further power and performance boost gives the redesigned six-speed manual or automatic gearbox.
SEE ALSO: Toyota and Mazda Teamed Up One More Time!
Also, HiLux comes in Australia with expanded customizable variation: there are about 30 variants with 4x2 and 4x4, a total of three cabin styles and three equipment grades. In fact, the team focuses on the double cabs, 4x4 variants and the diesel options. And this will be the first HiLux model, that will include Hi-Rider variants, which means, that a 2WD system will include the height, power and heavy-duty suspension of a 4WD drive. The latest model will also come with bigger fuel tank of 80 liters, all terrain tires and numerous other additions.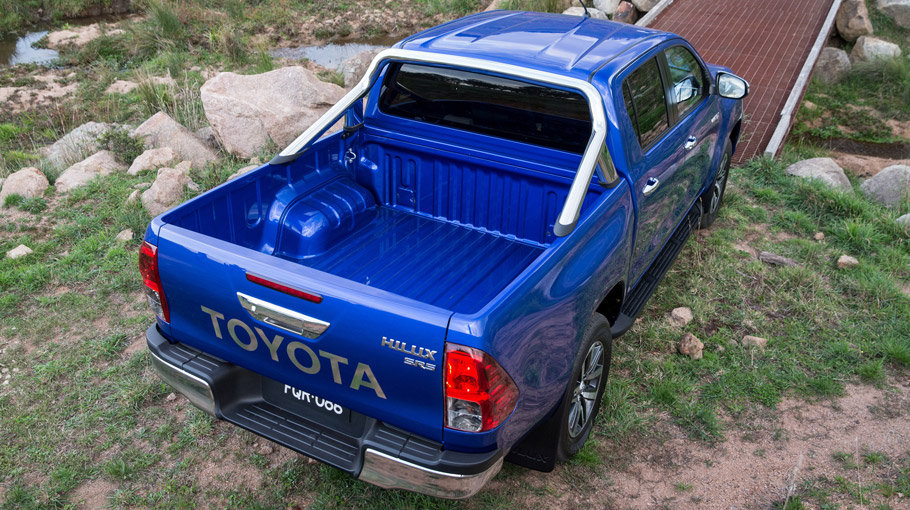 Style, interior and exterior
The HiLux, showed in Australia offers 18-inch wheels, that fit perfectly on the redesigned body, that now looks even more confident and even more muscular. In fact, the vehicle is with 70mm longer and 20mm wider and with a lowered roofline. Optional to the range are the 16- and 17-inch wheels. The widened exterior dimensions are  wonderfully collaborated with the spacious interior, that is now even more comfortable and cozy.
As we see from the latest HiLux,Toyota team is confidently stepping forward to the award of maximum safety features, stability and control.
We will see about that. Stay with us for further information!
Source: Toyota