2016 Volkswagen Jetta by MOMO Will Debut at 2015 SEMA

What will happen to the 2016 VW Jetta GLI 2.0T  if it is tweaked by MOMO team? The answer is quite satisfactory. The lucky vehicle now comes with numerous upgrades and mainly driver-focused technology and functionality changes.
First of all, the exterior strikes with the sweet 19-inch MOMO light alloy road wheels, neat red finish, while the interior welcomes you with attractive MOMO steering wheel and sweet and vibrant interior design. The special MOMO wheels are offered in either matte anthractite or matte black. Furthermore, the vehicle catches the eye with the GLI fenders and the low-profile sidewalls. And the included H&R Street Performance coilovers not only contribute to the aggressive stance, but also reduces the body roll.
SEE ALSO: Volkswagen Reveals the Limited Amarok Atacama Edition
And the sport lovers will appreciate the especially incorporated display in the driver's side air vent. It is invisible when it is off, but while running, it shows everything the driver should know: turbo boost, exhaust gas temperature, 0-100 km/h (62mph) timer, coolant temperature, throttle positon and more. How cool is that?

But MOMO team is not the only one that made the vehicle unique. The well-known Brembo brand provided special 14,4-inch diameter cross-drilled, two-piece front rotors and the monoblock calipers. These components come in yellow in order to better resemble the overall color scheme.
Under the hood the vehicle demonstrates a powerful 210hp (154 kW) 4-cylinder unit that is further fine-tuned and refined.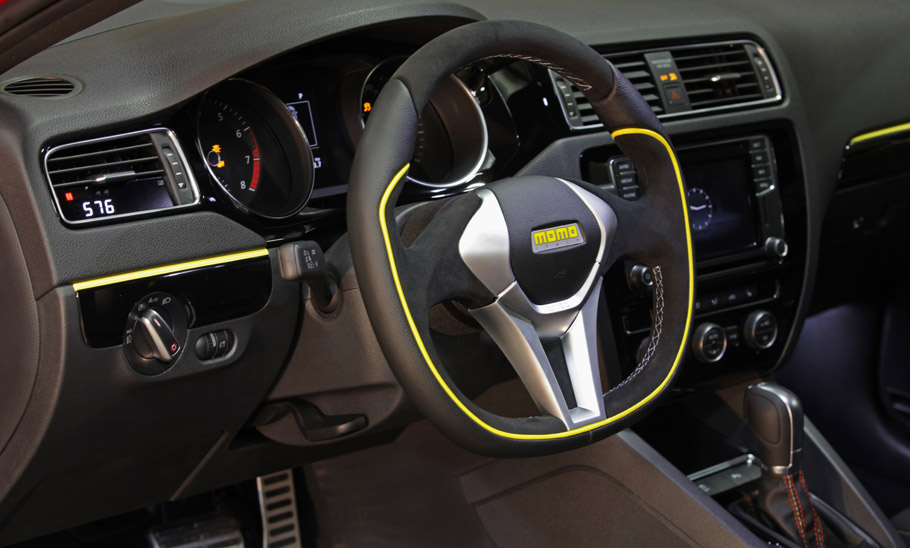 Red, beautiful and powerful. A Volkswagen vehicle that deserves attention.
Source: MOMO