ABT 2012 Audi AS6 Avant – Sports Touring car
ABT has announced their new tuning program for Audi A6 Avant. The name of the project is AS6 Avant.
"The car is characteristically versatile, stylish and dynamic – and we have tied performance packages which are perfectly suitable to it.", said Hans-Jurgen Abt CEO of the long established Bavarian.
"The history began with the introduction of the Audi 100 C2, which hit the market in 1977 as Avant. With the new AS6 Avant we look back on 35 successful years in the segment of the noble lifestyle-transporter.", he added.
There are performance upgrades for the 3.0 TFSI boosted to 420HP (309 kW) and 540Nm – an increase of 120HP and 100Nm. The new 3-liter bi-turbo diesel engine now has 360HP (265 kW) and 700Nm – an increase of 47HP and 50Nm.
Other upgrades include ABT lowering springs or the electronic lowering of the vehicle's barycentre with the help of the ABT Level.
The exterior features side skirts, a front spoiler as well as a rear spoiler and a new rear skirt set with two powerful double end pipes.
The sportive impression is strengthened with the ABT sports rims. ABT recommends the CR and DR model which harmonises particularly well with the silhouette of the Avant. The wheels are available in 19 up to 21" and naturally also in combination with high speed tyres.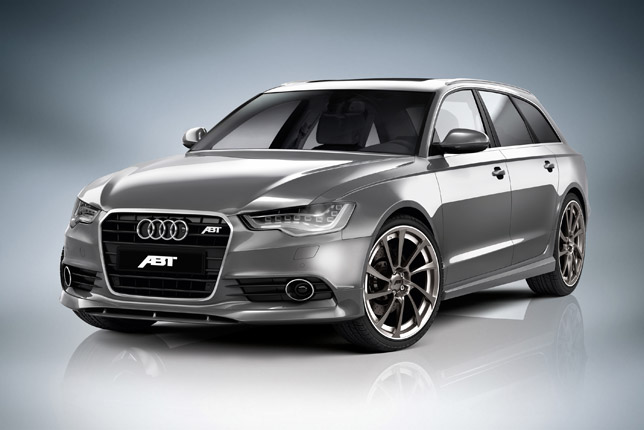 Source: ABT