ABT 2013 Volkswagen Beetle - Styling and Performance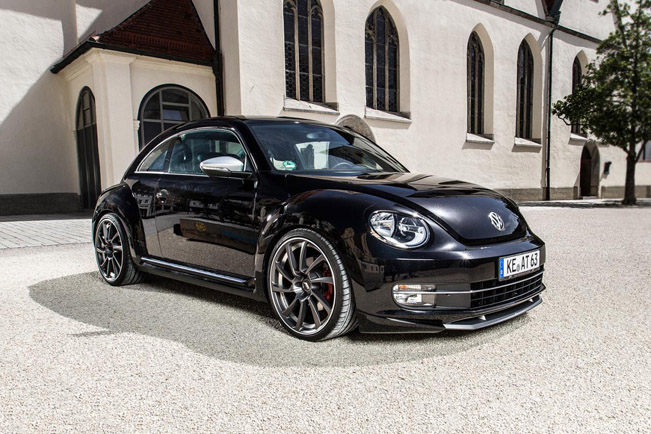 ABT has unveiled their latest tuning package for the new Volkswagen Beetle. The iconic vehicle is getting both – styling and performance upgrades for all engines in the range.
The exterior boasts a complete aerodynamics package including a new front spoiler, headlight and taillight covers, a two-pipe sports exhaust system and a 30mm lowered ride height by installing a new set of springs. There are also different types of alloy wheels from 18" to 20". The exterior can be finished in matte mystic anthracite, gunmetal or silver bullet.
The 2.0 liter TSI is boosted to 240HP (176 kW) and 340Nm (251 lb-ft) – an increase of 40HP and 60Nm. The smaller 1.4 liter TSI now has 140HP (103 kW) and 220Nm (162 lb-ft) – a boost of 35HP and 45Nm. The economical diesels are also tweaked – the 2.0 liter TDI now has 170HP (125 kW) and 370Nm (273 lb-ft), which is 30HP and 50Nm more. The 1.6 liter TDI is boosted to 125HP (92 kW) and 285Nm (210 lb-ft) – an increase of 20HP and 35Nm.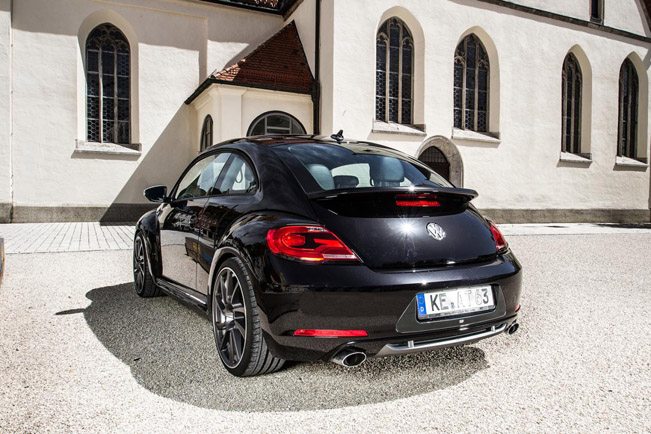 ABT Beetle – Data and Facts
ABT ENGINE TECHNOLOGY
Engine: 2.0 TSI, 1.984 cc capacity
Performance tuning: ABT POWER
Performance: 240 HP/176 kW (standard: 200 HP/147 kW)
Torque: 340 Nm (standard: 280 Nm)
Engine: 1.4 TSI, 1.390 cc capacity
Performance tuning: ABT POWER
Performance: 210 HP/154 kW (standard: 160 HP/118 kW)
Torque: 280 Nm (standard: 240 Nm)
Engine: 1.2 TSI, 1.197 cc capacity
Performance tuning: ABT POWER
Performance: 140 HP/103 kW (standard: 105 HP/77 kW)
Torque: 220 Nm (standard: 175 Nm)
Engine: 2.0 TDI, 1.968 cc capacity
Performance tuning: ABT POWER
Performance: 170 HP/125 kW (standard: 140 HP/103 kW)
Torque: 370 Nm (standard: 320 Nm)
Engine: 1.6 TDI, 1.598 cc capacity
Performance tuning: ABT POWER
Performance: 125 HP/92 kW (standard: 105 HP/77 kW)
Torque: 285 Nm (standard: 250 Nm)
ABT AERODYNAMICS
ABT WHEELS CR, DR and ER-C in 18 to 20 inches
Available also as complete set of wheels with sports tires
ABT suspension springs (lowering approx. 30mm)
ABT brake system, front axle, 345 x 30 mm
Source: ABT