ABT Audi AS4 Avant 3.0 TFSI - 380HP and 500Nm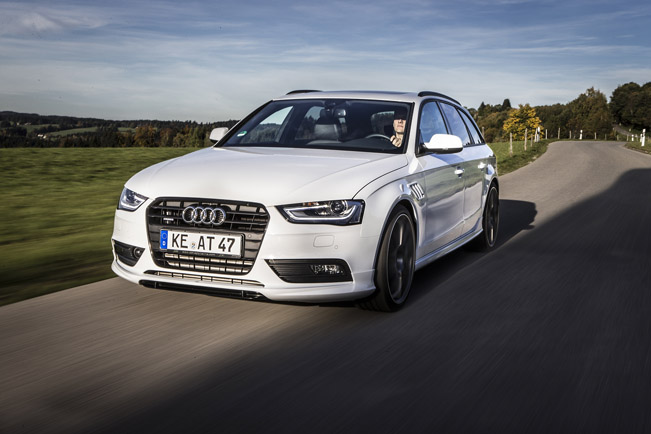 ABT Sportsline has presented their latest project based on the 2013 Audi A4 3.0 TFSI. The name of the project is AS4 and the family touring car comes with both – styling and performance modifications.
The 3.0 liter turbocharged V6 has 380HP (279 kW) and 500Nm (370 lb-ft) of torque, which is an increase of whopping 108HP and 100Nm. There is no acceleration data, but with all that power, the AS4 will accelerate 0-100 km/h in around 5.5 seconds and the top speed is no less than 250 km/h (155 mph).
ABT Audi AS4 comes with complete aerodynamics package including a new front spoiler, fender inserts and side skirts. There is also a rear spoiler, rear skirt and 4-pipe exhaust system.
The stance is improved thanks to a set of ABT heigh-adjustable coilovers. The new suspension is a combination of maximum comfort with optimum handling.
Sets of different wheels are also available – ER-C, CR and DR – available in 19" or 20" sizes.
Source: ABT