ABT Scirocco – more dynamics for the sports coupe
The very first Scirocco was the absolute star amongst compact sport coupes", reminisces Hans-Juergen Abt. The manager of the renowned car tuner is just as fascinated with the great-grandson of the Wolfsburger trend-setter: "The Scirocco looks really dynamic and the handling is very agile." All the more so with the Kempten modifications. They really make a storm out of a desert wind: The ABT Front spoiler makes the unmistakable face of the coupe even more distinctive. Even while stationary it is clear, who the "king of the ring" or the street is, as the ABT Scirocco seems to virtually lie in ambush of the kilometres ahead of it. This impression is supported by the lines on its sides, where the ABT Side skirts absorb and continue the sleek design. The indicated air inlets and edges in the doors underline the verve of the bodywork which rises at the back. The ABT Scirocco looks aggressive and very dynamic. The view from behind is also impressive: The ABT Rear skirt set, consisting of a rear skirt and a diagonally attached 4-pipe rear muffler, forms a sporty unit together with the ABT Rear wing. ABT Sportsline recommends either its BR or AR alloys as an ideal complement to the extravagant body kit of the shooting star. The wheels are available in 18 to 20 inch and of course with fitting tyres and wheel spacers.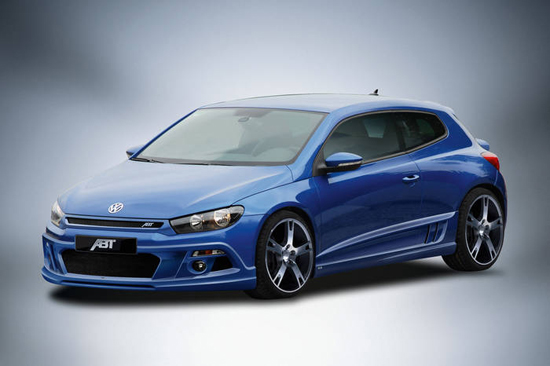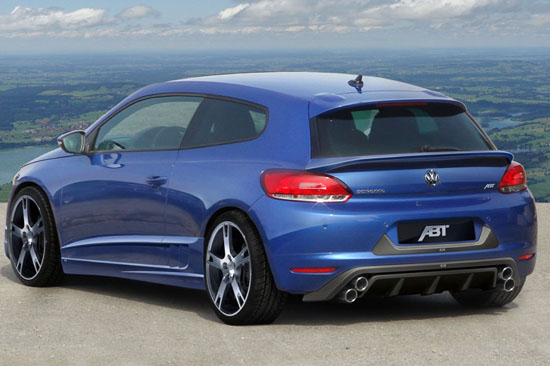 ABT also has, of course, springs in its product range. They make the Scirocco up to 30 millimetres lower – and thereby even more agile – on the road. The complete Upgrade Kit consists of the design pack, the 4-pipe rear muffler, the springs and complete wheel sets (19 inch AR alloys, diamond-machined and black, plus tyres and wheel spacers) is available at the launch of the ABT Scirocco in January 2009 for a reasonable 5,990 Euros.
Anything that has such dynamic charisma must also have convincing performance. ABT has therefore also developed power refinements for the VW engine. The 1.4 TSI now offers 200 HP (147 kW) on the road with ABT Power instead of 160 hp (11 kW), and the turbo diesel with two litre capacity 170 hp / 125 kW (standard: 140 hp / 103kW) The ABT Scirocco will be available with these upgrades from the start. Later on in the year the compact sports coupe will also be available with an increased-power 2.0 TSI. With it the car has 240 hp / 177 kW (standard: 200 hp / 147 kW).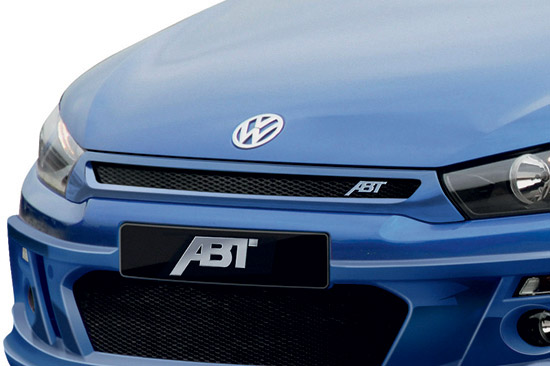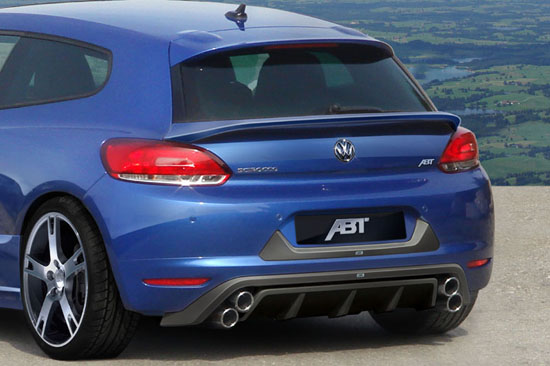 The brake pads of the ABT Braking system are able to cope with any situation, and with a diameter of 345 always grip powerfully. As is normal at ABT, all the details fit perfectly together and thereby result in a fascinating top range car.  You can see that it comes from the very top of the range and want to drive it straight off.