Acura, Best Luxury Campaign from Nielsen Automotive Advertising Awards
Last week, Acura's advertisement campaign for their TL range, was honored with a Best Luxury Campaign award at the Nielsen Automotive Advertising Awards event held at the 2012 New York International Auto Show. The company's agency of record, rp& (a division of RPA) took the credit thanks to their duo of commercials that feature two well known athletes: Detroit Lions football player Calvin Johnson and 2010 Olympic gold medal winning skier Ashleigh McIvor.
The to 0.30 minute spots do not actually feature the TL. Instead the message is conveyed trough metaphors of how an entity can be physically capable and brutish even while, at the same time, emitting style and refinement. The campaign's motto says it all really: "aggression in its most elegant form."
Those ads seem to be on to something here. Provided that we are talking about the TL SH-AWD (and not the FWD base one), we have 3.7-liter V6 that produces 305 hp and 373 Nm of torque. The SH stands for Super Handling and we suspect the multi-vectoring all wheel drive in the TL, might have something to do with that. While cruising, 90 % of the power goes to the front wheels. When one gives it the beans however, the tables turn – 70% to the back from which, 100 % can go to either rear wheel, depending on the circumstances.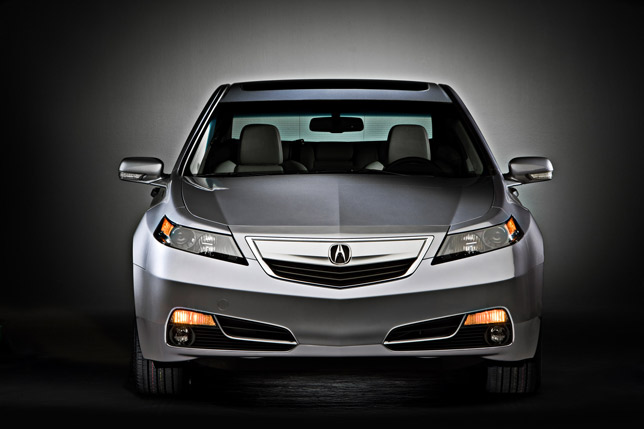 The Nielsen Automotive Advertising Awards is the only survey that measures the effectiveness of car TV ads. The data comes from around 2.5 million viewers of national television. 24 networks were included and every single commercial that began airing in 2011 was included.
"2012 has been an exciting year for Acura with the launch of the all new Acura ILX and RDX, the long awaited NSX Concept and most recently, the RLX Concept, Acura's new flagship sedan," said Mike Accavitti, Vice President of National Marketing Operations. "We are honored to add Nielsen's award to that list as we continually strive to create campaigns that further Acura's brand philosophy of innovation and advancement."
Source: Acura
Video Source: AcuraConnected via YouTube