ADAC's Yellow Angel takes a green trip with a Opel HydroGen4
On the "Day of the Yellow Angel," an annual meeting of the German automobile club (ADAC), GM/Opel has presented the group with a HydroGen4 car they will use for roadside assistance service in the Berlin-Brandenburg region. The hydrogen-powered HydroGen4 will be the first fuel-cell vehicle in the world to be put through the daily rigor of the extremely demanding breakdown service.
The use of the HydroGen4 vehicle is an important element of the European part of GM's worldwide fuel cell testing program in which more than 100 cars are deployed in daily use. One ADAC "Yellow Angel," the name of the automobile club's emergency roadside assistance cars due to their unmistakable color, will be on the road using fourth generation technology developed by GM/Opel. The only emission released from the tailpipe of the hydrogen-based fuel cell engine is water vapor.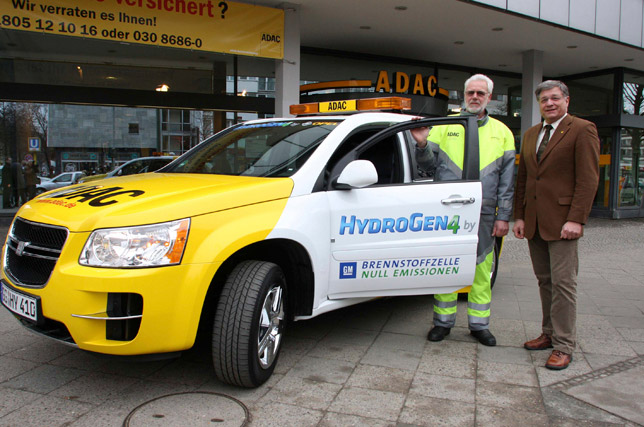 GM/Opel outfitted the HydroGen4 for ADAC with all the necessary components and systems required to assist drivers in need. This includes an electric on-board network with complete guiding systems, special touch pads up to and including the navigation system.
ADAC is the first of nine Opel partners (Allianz, Axel Springer, Coca Cola, Hilton, Linde, Schindler, Total und Veolia) to use the car as part of the Clean Energy Partnership, which will gather important information during daily use. Using radio communications, the most important data will be transmitted to Opel engineers, who will monitor and evaluate the hydrogen motors for further development. CEP is a project financed by the German Ministry for Transport, Building and Urban Affairs to demonstrate the daily use of hydrogen as an alternative fuel for transportation.