All-new 2015 Ford Mustang in production now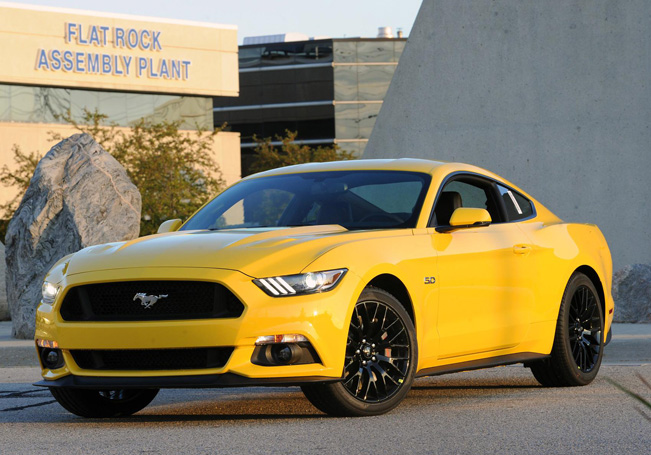 Ford has announced that the all-new 2015 Mustang has begun production at the Ford Flat Rock Assembly Plant in the United States. The new car will go on sale this fall in the United States and in more than 120 countries worldwide, marking the first time this vehicle is available around the world to fans of the Mustang brand.
The all-new 2015 Ford Mustang comes with another first – this time the car will also have a right-hand-drive version too, which means that fans in the United Kingdom, Australia and South Africa and other countries will be able to drive this beast of a car.
"Mustang is and will continue to be an automotive icon," said Joe Hinrichs, Ford president of The Americas. "Expanding its availability globally affords our customers around the world the opportunity to have a true firsthand Mustang experience – one unlike any other."
The Ford Mustang is a muscle car so a powerful engine is a must. Don't worry – the 2015 Mustang will come to you with a powerful 5.0-liter V8 unit with an upgraded valvetrain, a new intake manifold and improved cylinder heads for total power output of 435 horsepower (320 kW) and 400 lb-ft (542 Nm) of torque. In addition to that engine, customers will be able to choose between a 3.7-liter V6 unit and a 2.3-liter EcoBoost engine that brings state-of-the-art technologies to the new Mustang. For instance, this engine makes use of direct injection, variable cam timing and a twin-scroll turbocharger to deliver the power every Mustang fan expects – 310 horsepower (228 kW) and 320 lb-ft (434 Nm) of torque.
The new 2015 Ford Mustang also comes with a number of other improvements – the new vehicle now comes with all-new front and rear suspension systems. A new perimeter subframe up front helps stiffen the structure while reducing mass, providing a better foundation for more predictable wheel control that benefits handling, steering and ride. In the back you get an all-new integral-link independent suspension with specially tuned geometry springs, dampers and bushings for high-performance applications. New aluminum rear knuckles help reduce unsprung mass for improved ride and handling.
Back in April 2014 Ford celebrated 50 years since the launch of this iconic brand. In this time period the US car maker has sold more than 9.2 million Mustang cars. The Ford Mustang has also been featured in numerous movies, video and music games and more and is the most liked vehicle on Facebook with nearly 8 million likes.
No word on pricing of the new Mustang as of now but we are sure we will have more information later this year.
Source: Ford