America vs. Asia vs. Europe
Despite the hard financial circumstances some car manufacturers keep developing and releasing sports luxurious cars. The three cars in question here are: The 2009 Audi S6 coming from Europe, the 2011 Infinity M coming from Asia and the 2011 Cadillac CTS-V.
3 cars, 26 cylinders, more than 1300hp altogether and let the fun begin.
Being sports cars first of all, it is power on the first place. All three have lots of it, but the Cadillac has 121hp more than the Audi and 136 more than the Infinity. Being supercharged the Cadillac has the most torque as well – 551 NM.
Both the Audi and the Cadillac can be equipped with a six-speed automatic, while the Infinity offers a seven-speed transmission. If you are more conservative, the Cadillac is the only one to offer a manual gearbox – a 6-speed one.
Having such immense amount of power feels great and engineers were well aware of this. All three cars can benefit from at least 350mm rotors on the front wheels. The Audi has the largest brakes – 385mm and two-piston sliding calipers. The Cadillac's are just 5mm smaller; the Infinity has 356mm rotors.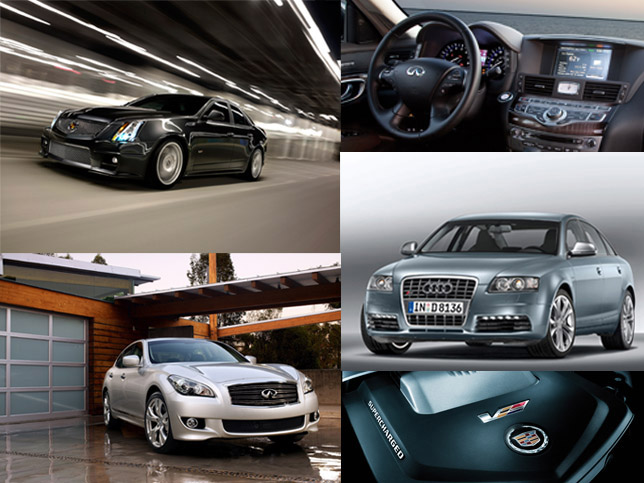 So it seems the Cadillac has it all in terms of driving experience. It lacks some other stuff though – No DVD player is to be found inside. Also, it is only sold as RWD, which is indeed fun, but AWD provides more stability and control especially if you have more than 400 hp.  Another small detail -it does not have a sunroof unlike the other two that have one as standard. At the cost of $62,360.00 the Cadillac is the second cheapest but mpg wise it is doing the worst of all three.
So which is the most fun to drive? The Cadillac is RWD, so maybe young people would prefer it, hence the supercharged Corvette engine and 556 hp. The Infinity is the only one offering 7 speeds meaning you always have enough power and torque to get your back firmly on the seat. The Audi has 2 cylinders more and offers the best picture under the bonnet, also its peak of torque is at the lowest RPM and the peak of power is at the highest. Also it costs 14-16k more than the other two.
Which is the fastest – definitely the Cadillac, considerably.
Which one is the most beautiful – the Infinity for sure slightly reminding of a Jaguar or a Maserati.
What does the Audi lack?
– A little more power to face the competition and let's face it
– Arguments to justify the 14k gap in price.