Arden Range Rover Sport Pegasus
Elegance, subtle sportiness and understatement have always been the distinguishing features of English cars. For over 30 years now, tuning specialists Arden from Krefeld, Germany, can't resist the appeal of these vehicles. This is the place where many customers have run to for years now with preferences on either standard features or for individualized customisation on their Jaguar or Range Rover. The most spectacular modification for the Range Rover Sport is immediately available: wing doors!

Sophisticated wing door construction
Gone are the days when only those italian sports cars bearing steer logos were designed with wing doors. Arden proves such features enhance SUVs as well establishing themselves as trail blazers. Arden achieves this one-of-a-kind look through use of a specialized door hinge unit that opens the original door first to the outside, then steadily glides it upwards and gently opens it completely. A gas spring supports the opening phase and reduces unnecessary strain to a minimum. The complete mechanism is individually customized made of high quality stainless steel.
The sophisticated construction which is necessary due to the adverse conditions in terms of available space, features comprehensive engineering know-how. The highest degree of precision assembly is mastered by the German specialists with flying colours. As Arden takes security to heart, all mechanisms are thoroughly tested in accordance with manufacturing vehicle UN-ECE regulations. Wing doors catapults every Range Rover Sport to becoming the ultimative show car! Price for modification to the original standard doors includes installation.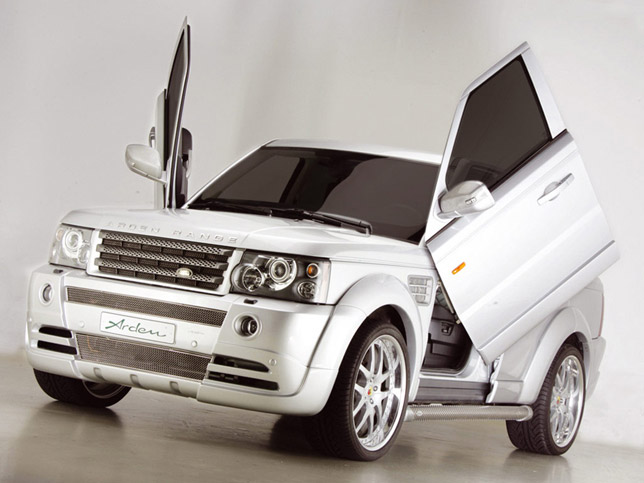 From appearance package to increased performance
Whether it's an appearance enhancement package or to increase performance, Arden offers extensive choices for individualisation of the Range Rover Sport. The German specialists provide a variety of power enhancement parts and accessories for higher performance of diesel and gas engines. Arden enables the V8 diesel TDV8 an increased performance to 315 HP and 700 Nm torque. The top version of the gas engine receives an increase in size for its compressor motor to 4,5 litres. Peak performance: 480 HP. Torque: 680 Nm. Vmax: 270 km/h.
Through the aide of a complete Arden bodywork kit for the AR5 or by widening the measurements for an AR6, the Range Rover Sport observer is left with an even more memorable impression. Likewise, Ardens wheels display a visual treat. Whether "Sportline" in 23-inch or Monoblock Rims "Dakar" in 22-inch: the Range Rover Sport is adequately provided proper footing.
Arden high performance exhaust systems not only renders an acoustic tuning, but has an impact on power as well. Driving enhancements from Arden results in distinctive better handling and increased driving safety. In this same manner, a further plus in theme safety is promised with Ardens developed brake system which provide for sustainable deceleration
Luxurious interior
Whether luxurious, sporty or dignified, the occupants of a Range Rover Sport will be spoiled in having all senses appealed to. All interior work is carried out in Arden's own saddlery of highest precision and with much love to detail made to order following customer requests. Highest quality of material provides the occupants of each Arden Range complete satisfaction and following longer drives, a relaxed atmosphere exiting out of the vehicle