Aston Martin Produces One-Off DB9 Volante Morning Frost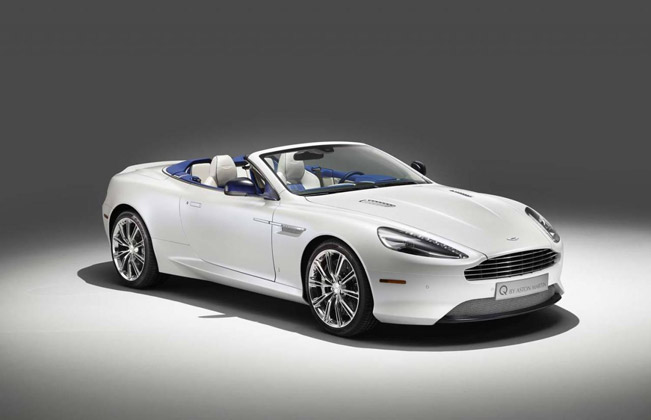 Aston Martin DB9 Volante Morning Frost is unique and was made by company's Q customization division. If you still can't believe it, this car is so exclusive that it will be produced in only one example. The one-off exterior is finished in white color, called Morning Frost, and features blue satin carbon fiber accents, and we must say it looks pretty nice. The same blue color has also been used for the soft top.
There is also a special mesh grille and even more special and elegant 10-spoke alloy wheels. The two-tone design scheme continues inside in the cabin. There we see the combination of Pearl White and Spectral Blue leather seats. The latter leather is used also for the air vents, while Cobalt Blue is used for the fascia trim.
DB9 Volante Morning Frost will be driven by 6.0-liter V12 engine. The unit produces 510 hp (375 kW) and 620 Nm (458 lb-ft) of maximum torque, and is coupled with a Touchtronic 2 six-speed transmission. The transmission helps the car accelerate effortlessly from 0 to 100 km/h in 4.6 seconds.
DB9 is the iconic heart of the Aston Martin model range. It combines an intoxicating blend of elegance and engineering, refinement and technology. DB9 is also the latest progeny of the most illustrious automotive bloodline in the world.
Aston Martin's newest DB9 has been commissioned by Aston Martin Dallas. Honestly, this sports car is definitely one of the most eye-catching DB9 Volantes we've ever seen. What do you think?
Source: Aston Martin