Audi A3 And TT Ranges Update
BLACK IS THE NEW WHITE FOR THE AUDI A3
New Audi A3 Black Edition models emerge from the shadows this month to join the popular three-door, five-door Sportback and Cabriolet ranges. Combining dark and brooding looks with an exceptional specification that takes the top S line model as its basis, the new limited run A3 range can be ordered now priced from £22,215 OTR to £27,395 OTR, and will reach the UK in early February.
To set the tone, Black Edition models feature a de-chromed front grille and, in the Cabriolet versions, black surrounds for the roll bars and the shoulder line. 18-inch S line design alloy wheels with an exclusive dark titanium finish continue the theme in all three variants, and in the hatchbacks privacy glass extends from the B-pillar. For the full effect, these features are combined with Brilliant Black paint at no extra cost, but the fashionable no-cost option of Ibis White and the extra cost metallic options Phantom Black, Misano Red and Monza Silver are also available.
They may keep a lower profile in some respects, but the A3 Black Editions also make their presence very much felt in others, thanks not only to their sporting S line body styling treatments but also to their standard fit Xenon headlamps with LED daytime running lamps.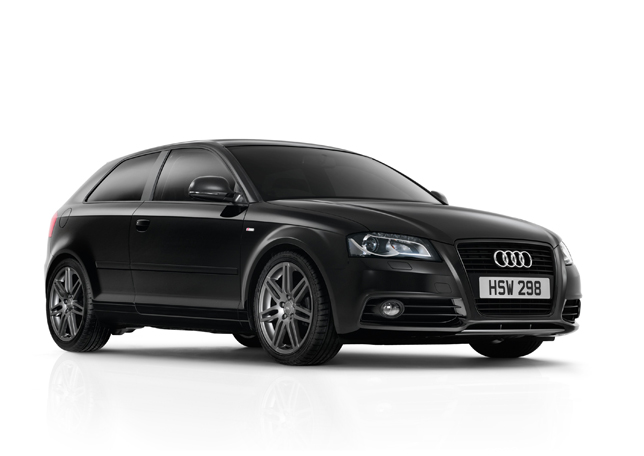 Black interiors too Inside, the Black Editions are marked out by high gloss Piano black inlays, and the already extensive S line specification is enhanced by a high output Bose speaker system, acoustic rear parking sensors and an exclusive flat-bottomed multi-function steering wheel.
The S line package also offers sports suspension, part leather-upholstered sports seats, electronic climate control and an Audi Concert audio system with single CD player and MP3 compatibility. In Cabriolet Black Edition models, available exclusively with a black acoustic hood, it also includes fully automatic hood operation and a wind deflector.
The new Black Edition specification is available in conjunction with the 1.8-litre and 2.0-litre TFSI petrol engines (160PS and 200PS) and the two advanced 2.0 TDI common rail engines (140PS and 170PS). It carries a premium of £905 over the equivalent S line model in each case which, when the additional equipment it offers is taken into account, represents a customer saving of £675 on the A3 Black Edition and £650 on the A3 Cabriolet Black Edition.
AUDI TT RANGE GATHERS MOMENTUM FOR 2009
The sporting essence of the TT has been further distilled by the addition of new quattro four-wheel-driven versions of the Coupe 2.0 TFSI and Roadster 2.0 TFSI priced from £27,715 OTR. At the same time, S line specification, the performance-oriented trim level of choice for the majority of UK Audi customers, becomes available across the perennially popular TT range at an extra cost of £1,615 for four-cylinder models and £1,030 for the V6 versions.
The new S line option lends an even more purposeful air to the TT's unmistakeable lines through an S line-specific front grille treatment, exclusive S line front and rear bumper design, side sill extensions and, for four-cylinder models, chrome trimming for the exhaust tailpipes. Trademark 18-inch five-spoke design alloy wheels also replace the 17-inch Trapez design wheels in 2.0 TFSI petrol and 2.0 TDI quattro versions, and the 18-inch 10-spoke design wheels in the 3.2 V6 models. Sports suspension lowered by 10mm and with unique S line settings is common to all models, as is an upgrade to the short-shift manual gearbox with its quicker, even more sporting shift action (unless the S tronic twin-clutch transmission is specified).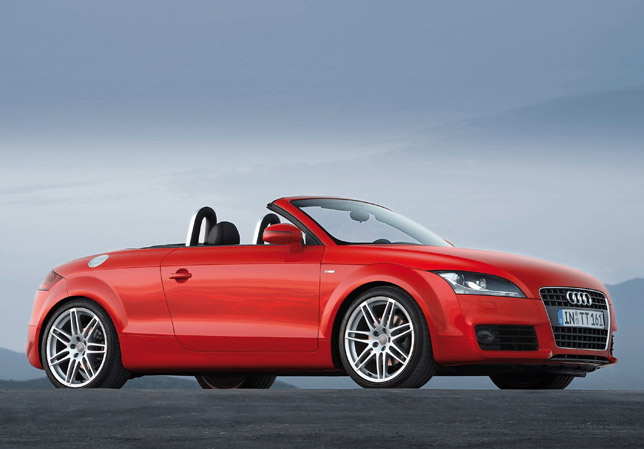 Inside, S line embossing for the sports seats, brushed aluminium inlays and a three-spoke multifunction S line steering wheel stamp the S line mark on the TT interior, which in common with standard four-cylinder models also features leather and Alcantara mix upholstery, electronic climate control, a Driver's Information System (DIS) and a Concert audio system with single CD player. Standard and S line versions of the V6 models are further enhanced by full Fine Nappa leather upholstery (with S line embossing in S line models) and front seat heating.
The TT range now encompasses turbo charged four-cylinder 2.0-litre TFSI (200PS) models available in front-wheel-drive or newly introduced quattro four-wheel-drive forms, naturally aspirated 3.2-litre V6 (250PS) versions available exclusively with quattro drive and 2.0-litre TDI (170PS) diesels, also quattro driven without exception. At the head of the range TTS models, powered by a 2.0-litre turbo charged TFSI engine delivering 272PS, have their own unique sports specification.
For driving characteristics that do justice even more fully to the TT S line's purposeful stance, the Audi magnetic ride advanced adaptive damping system can be specified as an option for all TT models (a specially configured version is included as standard for the TTS). The ultra quick-shifting twin-clutch S tronic transmission is a standard feature of the new 2.0 TFSI quattro models, and can deliver its 0.2-second changes in all other TT models bar the TT 2.0 TDI quattro at extra cost.
A3 Black Edition OTR Prices
| | |
| --- | --- |
| A3 1.8 TFSI Black Edition | £22,215 |
| A3 Sportback 1.8 TFSI Black Edition | £22,705 |
| A3 Cabriolet 1.8 TFSI Black Edition | £26,040 |
| A3 2.0 TFSI Black Edition | £23,490 |
| A3 Sportback 2.0 TFSI Black Edition | £23,980 |
| A3 Cabriolet 2.0 TFSI Black Edition | £27,395 |
| A3 2.0 TFSI quattro Black Edition | £26,305 |
| A3 Sportback 2.0 TFSI quattro Black Edition | £26,795 |
| A3 2.0 TDI (140PS) Black Edition | £22,510 |
| A3 Sportback 2.0 TDI (140PS) Black Edition | £23,000 |
| A3 Cabriolet 2.0 TDI (140PS) Black Edition | £26,510 |
| A3 2.0 TDI (170PS) Black Edition | £23,420 |
| A3 Sportback 2.0 TDI (170PS) Black Edition | £23,910 |
| A3 2.0 TDI quattro (170PS) Black Edition | £24,790 |
| A3 Sportback 2.0 TDI quattro (170PS) Black Edition | £25,280 |
TT S line OTR pricing
Coupe
| | |
| --- | --- |
| 2.0 TFSI S line | £26,540 |
| 2.0 TFSI quattro S line | £29,330 |
| 2.0 TDI quattro S line | £27,655 |
| 3.2 V6 quattro S line | £30,685 |
Roadster
| | |
| --- | --- |
| 2.0 TFSI S line | £28,540 |
| 2.0 TFSI quattro S line | £31,290 |
| 2.0 TDI quattro S line | £29,610 |
| 3.2 V6 quattro S line | £32,645 |