Audi A6 Avant Allroad
Welcome, to the Audi A6 Allroad. It's like that beefy relative of yours that's always around when a pickle jar needs to be opened. The one that also has a degree in geology... anyways. What we have here is a quattro Avant that comes with smart, stop/starting, thermo-efficient engines, a light body and a sturdy look.
There are four engine choices available – three diesels and a TFSI, all in the V6 category. That last one, the petrol, doesn't make much sense. It's 3.0-liter displacement accommodates 310PS and 440Nm of torque. It will get the A6 to 60 mph from a stand still in no more than 5.9 seconds and, supposedly, it will return around 31.7 mpg on the combined cycle. That sounds impressive by itself but when a 3.0-liter BiTDI engine is out there as an alternative, the choice is a no brainer really. "Bi" as in two turbochargers, this one has the same power output as the TFSI (313PS) and almost a third more torque – 650 Nm. 0 to 60 mph is done in 5.6 seconds and the economy amounts to 42.2mpg – better in every way really.
If it's economy you're after however, then the "standard" TDI is the engine for you – respectable power of 205PS and an economy figure of 46.3mpg with a CO2 output rate of 159 g/km – just bellow a taxation threshold in many countries. For those who won't be comfortable even with that, there will always be a fourth option which is the mid-range TDI that has 40PS more than the base one and a healthy lump of torque that amounts to 580 Nm. The 60 mph run is done in 6.6 seconds and the cost of it won't be much as the economy figures are the equally impressive 44.8 mpg.
Except for the BiTDI Allroads, a seven-speed S tronic dual-clutch transmission comes as standard. The BiTDI ones get the latest eight-speed tiptronic automatic transmission.
Regardless of what you might choose, know that power will always go trough Audi's quattro all-wheel-drive that splits the incoming torque in a 40:60, front to back manner. Know also that, the engines will have the task to propel the lightest A6 generation so far – 70 kg less then the previous models.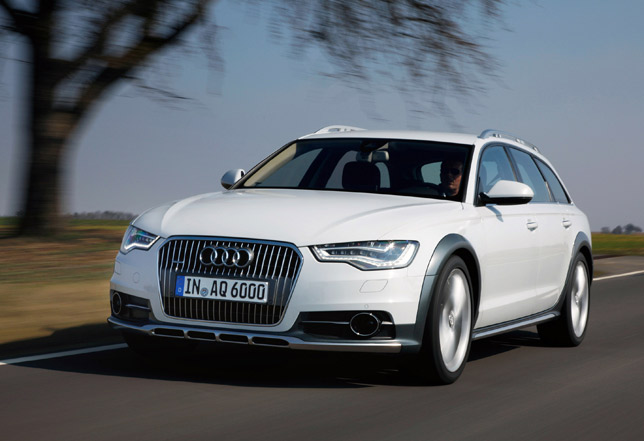 To affirm itself as an Allroad, the A6 has to flare its wheel arches a bit. The side sills are kind of extended and there are front and rear stainless steel underbody guards that keep rocks out of the sump department.
It's not all rough-and-tumble with the Allroad. Inside, there's cleverness as well – a 6.5 inch display, sat nav, an electromechanical steering, Bluetooth and a drive selector that lets you choose how all the gizmos, as well as the adaptive suspension and the engine, work - Comfort, Dynamic, Automatic, Individual and Efficiency are the modes to chose from.
So, does it do better than the VW Passat Alltrack? As a bigger brother, it should so.
Source: Audi