Audi Night – the main sponsor's opening-night highlight
Every year in summer the eyes of the world turn to Salzburg. For five weeks, the Salzburg Festival draws lovers of theater and music to the city of Mozart. Once again this year, Audi is supporting this first-class cultural event as the main sponsor. And Audi Night on the opening weekend is a social highlight not to be missed by prominent figures from business, culture and high society.
"We prize the positive and inspiring atmosphere at the Salzburg Festival very highly", says Peter Schwarzenbauer, AUDI AG Board Member for Marketing and Sales. "Art and culture are an enrichment for everyone – and creativity is indispensable at Audi as well. The ideas and innovations fit perfectly with our Vorspung durch Technik philosophy."
The new production of Don Giovanni by German director Claus Guth was hotly anticipated. He interprets the story of the careless lothario and hedonist Don Giovanni in a way that matches the theme of the 2008 Festival: "For love is as strong as death." The music was directed by Bertrand de Billy.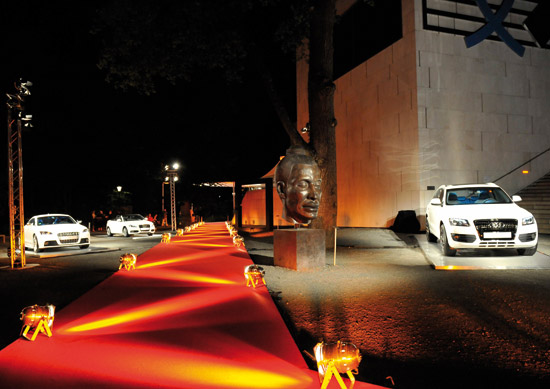 After the premiere, the festival community met on Sunday evening at Audi Night, the traditional highlight of the opening weekend. Personalities from the world of business and high society enjoyed the elevated view of Salzburg at night from the M32 restaurant on the Mönchsberg. Attendees included Rupert Stadler, CEO of AUDI AG, Peter Schwarzenbauer, AUDI AG Board Member for Marketing and Sales, Princess Gloria von Thurn und Taxis, Jürgen Flimm, director of the Salzburg Festival and soprano Anna Netrebko with Erwin Schrott. Despite the late hour, stars and performers from the opera's premiere were also among the guests celebrating at Audi Night, including baritone Christopher Maltmann (Don Giovanni), bass Anatoli Kotscherga (Il Commendatore), soprano Anette Dasch (Donna Anna), and tenor Matthew Polenzani (Don Ottavio).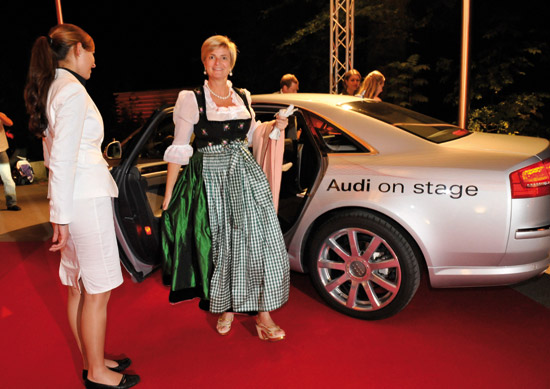 Music has a long tradition in Salzburg, and merely driving through the enchanting baroque Old Town area of the city on the way to a performance puts visitors in a festive mood. For the first time, Audi is supporting the cultural highlight of 2008 with a very special fleet of 80 Audi A8 sedans. These cars run exclusively on GTL fuel, a synthetic, crystal-clear fuel that is free of sulfur and aromatics and that is extracted from natural gas through a chemical reaction.
Audi has for years sponsored celebrated music-related cultural events such as the Salzburg Easter Festival, the Schleswig-Holstein Music Festival and the Audi Summer Concerts, in addition to the Salzburg Festival. Audi has extended its sponsorship contract with the Salzburg Festival until 2011.