Audi RS6-R Impresses with 730 HP and 920 Nm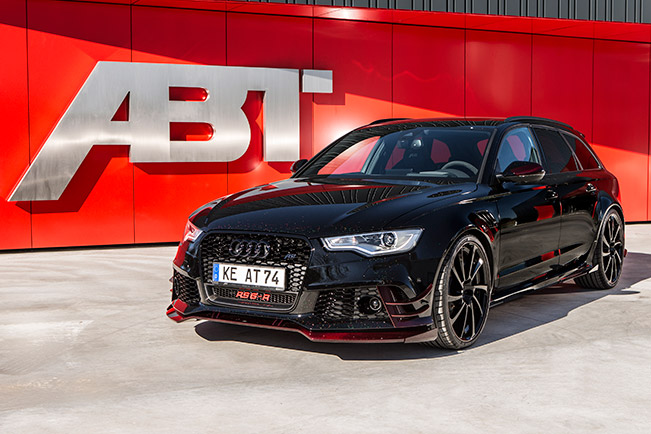 What do you think of when you read 730 HP (537 kW)? You probably imagine a massive truck or a super-sports-car. The last thing, perhaps, that comes to your mind is, well, a simple family or business-suitable car. On a side note, of course, when I say "simple" I do not really mean "simple" because a 730 HP monster can hardly be called just "simple".
Yet, the powerful model in question is named 320 kph ABT RS6-R and is another surprise by ABT Sportsline which will be depicted at the Essen Motor Show 2014. The car is based on Audi RS6, but this time it provides even more comfort, practicality, usefulness, and luxury. This ABT creation will be limited to only 25 cars around the world.
In order to refine this model, the tuner provides it with a kit that is comprised of the ABT Engine Control unit, a specially developed software and a specially adjusted stainless steel exhaust system – including a Y-pipe and sport-type catalytic converter. There are also Dunlop high-performance tires which finalize the dynamic set-up of the RS6-R. The upgraded Audi benefits from 22-inch ABT DR alloy wheels.
Inside, ABT adorns the car with an embroidery and letterings that are simultaneously discreet and tasteful. There are also carbon-shift paddles and LED-shifting lights on the steering wheel.
ABT ENGINE TECHNOLOGY Engine: 4.0 TFSI, 3.993 cc capacity, V8 Performance tuning: ABT POWER Performance: 730 HP/537 kW (standard: 560 HP/412 kW) / 920 Nm (standard: 700 Nm)
ABT AERODYNAMICS ABT front lip incl. front blades (red carbon fiber) ABT air inlet covers incl. front flics (red carbon fiber) ABT front grille insert with RS6-R logo ABT side skirt attachments incl. side blades (red carbon fiber) ABT rear skirt attachment on side (2 parts) and middle (both red carbon fiber) ABT rear spoiler  (carbon fiber) ABT mirror covers (carbon fiber) ABT fender inserts
ABT WHEELS DR in 10 x 22 inches ET52 Available also as complete set of wheels with Dunlop sports tires in 295/25 ZR22
ABT EXHAUST TECHNOLOGY ABT stainless steel exhaust system incl. Y-Pipe with sport-type catalytic converter and black ABT tail pipes
ABT SUSPENSION ABT height adjustable spring kit
ABT INTERIOR ABT sports steering wheel with LED shifting lights and carbon shift paddles ABT floor mats ABT embroidery at the head rests ABT RS6-R lettering ABT applications (red carbon fiber)
Source: ABT Sportsline