Audi TT RS Plus By OK-Chiptuning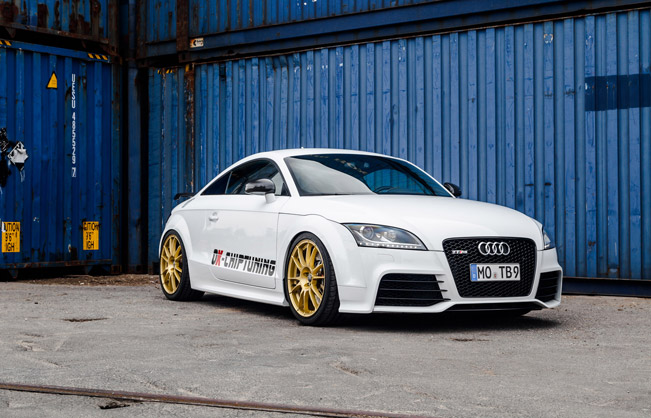 OK-Chiptuning is a company which is popular for the software optimization of engine control units that it performs on exclusive car models. The latest power boosting of the tuners was done on a 2013 Audi TT RS Plus and resulted in maximum output and more powerful torque characteristics with fuel economy effects.
This white Audi's engine is coupled with a 7 speed S-tronic transmission, and originally delivers more than 360 horsepower (265 kW) and 465 Nm (343 lb-ft) of torque. The chip tuning began firstly by the installation of a Wagner Evo 2 charge air cooler, and then proceeded to the correspondent ECU software and S-tronic (DQ500) optimization.
After this was perfectly implemented, the specialists at OK-Chiptuning added a brand new DK-Turbotecnic Dortmund exhaust system with valve control which begins at the turbocharger. As a result, the Audi got 453 horsepower (333 kW) and 659 Nm (486 lb-ft) of maximum torque.
The transformation of the TT RS Plus did not stop here but continued with the driving dynamics. Precisely, an H&R club sport chassis has been combined with a stabilizer kit of the same origins and adjustable coupling bars. Then, adjustable aluminum strut bearings have been added.
This amount of horsepower had to be respectfully transmitted onto the road via OZ rims type Ultraleggera HTL in size 9x19 ET42 coupled with Toyo Proxes tyrse in the dimension of 255/35-19. At last, the carbon rear wings as well as the front and rear apron were black coated.
Source: OK-Chiptuning