FolienCenter-NRW Audi TT RS In Chrome Red Delivers 501 HP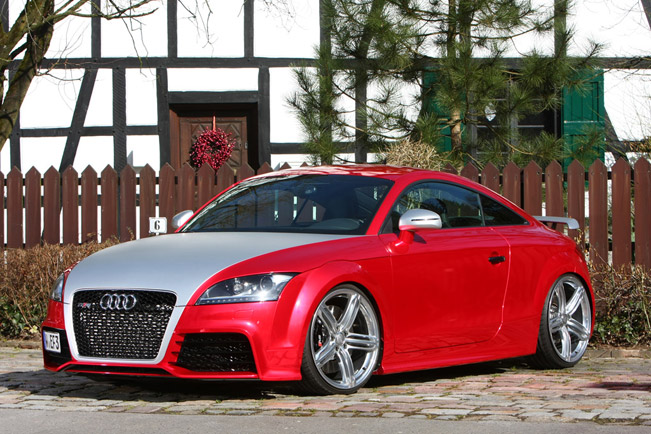 Chromium wrapping is expected to be one of the most important trends that are happening at the moment. For this reason the wrapping experts at FolienCenter-NRW have given a new skin to this Audi TT RS in exceptional "chromium red" prototype wrap of Hexis.
Thanks to this, the Audi becomes an absolute attention "grabber". Furthermore, the red chrome gives the perfect contrast to the elements in matt silver, such as the exterior mirror which is in factory-chosen matt silver, as well as the high-gloss consolidated Audi RS6 rims.
To be more precise, the 9x20 inches rims are covered all round with Hankook S1 Evo tires of 225/30R20. In addition, Bilstein B16 coil-over suspension is responsible for the opulent lowering.
What is more, the unit under the hood has been also reworked with the help of LOBA motorsports components: LO500P turbo charger, charge air inter-cooler, fuel pump; and the better high-performance ignition plugs and a final software optimization by FTS Fahrzeugtechnik.
The result is that the five-cylinder TFSI engine generates now exactly 501 horsepower (368 kW) from its 2.5 liter cubic capacity and maltreats the Sachs-Performance clutch with a maximum torque of 563 Newton meters (415 lb-ft).
That is not all! This Audi has a deep voice to show thanks to the Milltek exhaust system following up on the HJS racing catalytic converters. It has the ability to cover the sprint from 0 to 100 km/h in just 3.6 seconds on its way to the top speed of 320 km/h.
Source: FolienCenter-NRW