BBR Shows Most Powerful Mazda MX-5 GT270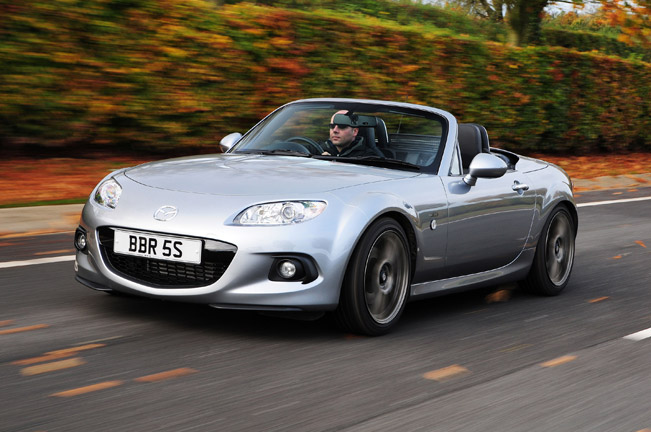 Brodie Brittain Racing or simply BBR proudly presents its latest and most potent creation - Mazda MX-5 GT270. The car is based on the 2013 MK3.5 (NC) 2.0-litre Sport Tech Roadster Coupe, and now features a breathtaking turbocharged engine.
Other enhancements here include advanced electronic upgrades and chassis improvements, and they contribute towards Mazda's dynamics. The car's production is limited up 100 numbered cars.
To main focus in this tuning here is the BBR GT270 2.0-litre engine, which has been subject to extensive development by BBR's engineers. The unit produces 268 hp (197 kW) at 7350rpm, and has a peak torque figure of 308 Nm (227lb.ft) at 5100rpm.
The top speed here is 150 mph, while the acceleration time from 0 to 100 km/h is estimated at 4.9 seconds. In addition, the unit sports quick spooling Garrett GT25 ball bearing turbo which provides superior torque, power and throttle response.
Another interesting fact about this car is that the tuners at BBR have worked together with the specialists at EcuTek in order to debut unique suite of 'Starchip' calibration software, which offers a greater range of functionality and control for the GT270 owner.
Of course they serve in terms of enhancing performance and functions like launch control, auto throttle blipper on the downshift and a full throttle gearshift. In detail, the EcuTek ProEcu system on the BBR GT270 offers four driving modes selectable via the MX-5's cruise control stalk, which activate the following functions:
BBR GT270 ECU Mode One - 98 Octane fuel maps for every day use (designed for use where fast road driving is the priority for the user.)
BBR GT270 ECU Mode Two - 98 Octane. Features include launch control set at 3800rpm, full throttle/no lift gearshift above 40% throttle, auto downshift throttle blip above 3500rpm (optimised for pure no-compromise circuit driving.)
BBR GT270 ECU Mode Three - 95 Octane cruise map (economy mode for longer motorway journeys.)
BBR GT270 ECU Mode Four - Valet mode, the engine is limited to 3500rpm in all gears (security mode to prevent unwanted third party driver abuse)
The exterior of the vehicle has a discreet 'BBR turbo' badging and BBR branded exhaust tailpipe trims. BBR Mazda MX-5 270 also offers other available options such as BBR Performance Suspension Upgrade, BBR Performance Braking Upgrade that includes EBC 'Yellow Stuff' pads, stainless steel brake lines and Castrol SRF brake fluid and BBR Performance Exhaust System Upgrades. The latter is suitable for those searching for a sportier exhaust note
BBR Mazda MX-5 GT270 Technical Specifications:
Bespoke BBR Garrett GT series ball bearing turbocharger (360BHP+ capability) – optional polished compressor cover available
BBR cast iron GT25 stainless steel turbo manifold (tubular option available)
BBR stainless steel downpipe (optional BBR stainless steel performance exhaust available)
BBR Hi-flow lightweight front mounted aluminium intercooler with factory look black intake pipes (polished and custom colour options available)
BBR high flow custom silicone turbo pipes in factory look black finish with stainless steel hose clamps (custom colour options available)
BBR lightweight aluminium battery tray in factory black finish (custom colour options available)
BBR Recirculating piston type dump valve in factory black finish
BBR / Bosch MAP sensor
BBR / Bosch high flow fuel injectors
BBR turbocharger heat shield (carbon fibre option available)
BBR high flow airbox (carbon fibre option available)
BBR stainless steel / Teflon oil and water lines
BBR Starchip EcuTek Pro ECU calibration software with driver switchable modes
BBR branded exhaust tailpipe trims
BBR / Exedy uprated clutch
BBR build number plaque
Source: BBR