BBR Releases Tuning Program for the Latest Mazda MX-5

BBR is one of the most famous tuning brands that excel in modifying Mazda vehicles. Now, it launches its first and much anticipated engine, suspension and brake upgrades for the latest ND versions of the MX-5. Thus the new Mazda SkyActiv engine will receive BBR's 'Super 160' for the 1.5-litre models, as well as 'Super 175+' and 'Super 190' for the larger 2.0-litre. In this way they will deliver astonishing power gains across the rev range and three will be no loss of driveability.
BBR Super 160
To start with the optimization for the 1.5-litre ND model, it gives the stock output an addition of 21bhp and 15lb.ft. Just like the next upgrade, the Super 175+, the Super 160 also features exclusive, in-house developed BBR Starchip ECU software modification. As a result the MX-5 achieves 158bhp (116 kW) available at 7450rpm.
SEE ALSO: BBR upgrades the 2005-2014 Mazda MX-5 with "Super 200" package 
BBR Super 175+
This one adds 17bhp and 10 lb.ft to the stock output of the 2.0-litre unit of the Mazda MX-5 ND. Therefore the car benefits from an extra 17bhp (to a maximum of 177 bhp=130 kW) with an additional 17 bhp on tap at 6800rpm.
BBR Super 190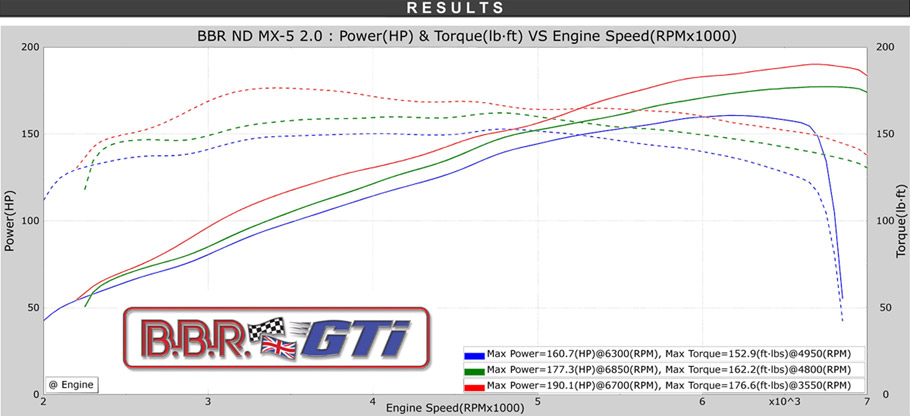 BBR Super 190 adds 30bhp and 24lb.ft and has been designed for complete forward compatibility with further BBR engine upgrades that will be launched in 2016. Here the key components include cold air intake system, exhaust manifold with 2.5-inch diameter outlet, 2.5" high flow stainless steel TIG welded exhaust centre section with integrated sports catalyst and Grand Tourer stainless steel rear silencer with adjustable twin tailpipes. As the name suggest, thanks to the BBR Super 190, the car produces the stunning 190bhp (140 kW) at 6700rpm.
The Additional Equipment
But the BBR Super 190 also features additional equipment including lightweight BBR sports silencer and stainless steel 4-1 manifold. Here is also included the BBR high performance dynamic springs, the in-house made MX-5 ND braking upgrades and the special performance wheel and tire packages.
Source: BBR