2014 Bentley Continental Flying Spur Revealed [VIDEO]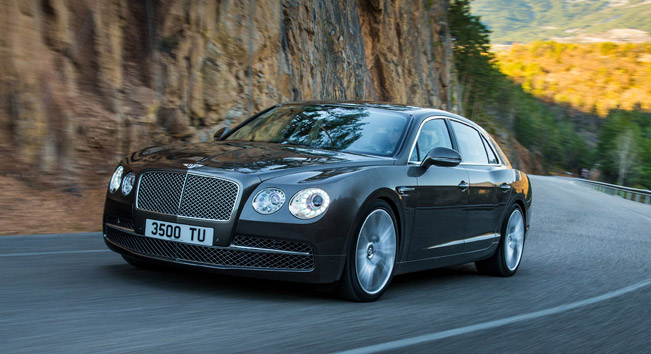 2014 Bentley Continental Flying Spur has just been officially revealed after it has been teased two weeks ago. The new luxury performance sedan delivers sculpted design and state-of-the-art technology. This is Bentley's most powerful four-door model ever created and it will make its word debut at the 2013 Geneva Motor Show on 5th March.
The design of the new Flying Spur combines traditional Bentley styling cues with a sporting stance and contemporary details. Sharp feature lines complement muscular rear haunches, while LED day-time running lights, dipped headlights and taillights characterise the front and rear profiles.
The interior of course is more than luxurious and in addition the cabin is spacious and includes advanced acoustic and electronic technologies in exquisite hand-crafted leather hides and wood veneers. The occupants will enjoy connectivity including Wi-Fi, a Rear Seat Entertainment suite and a new hand-held Touch Screen Remote which allows rear-cabin occupants to control an extensive range of features.
Furthermore, for the acoustic experience inside is outstanding thanks to the eight-channel, eight-speaker audio system with Balanced Mode Radiators.
2014 Bentley Continental Flying Spur hides under its hood a 6.0-litre, twin turbo W12 engine, coupled to a ZF eight-speed transmission. It generates 625 hp (460 kW) and 800 Nm (580 lb-ft) of torque. This makes it the most powerful model in brand's history.
The acceleration sprint from 0 to 100 km/h is achieved in only 4.3 seconds on the way to the top speed of 200 mph (322 km/h). The power is delivered to the road via all-wheel drive with a 40:60 rear-biased torque split for a sure-footed, engaging drive in all road and weather conditions.
To go further into details about the exterior of this new Bentley model, the front fenders include a striking new wing vent complete with an elegant Bentley "B" motif. From here, an additional feature line creates a sharply defined edge running from the front wheel all the way to the rear bumper.
A more upright chrome grille sits between the pairs of LED headlamps. At the rear one can see a longer and lower boot lid and horizontal single ellipse LED tail lamps combine with a new interpretation of the Bentley "Horse Shoe" feature line.
As a matter of fact, the interior of the new Flying Spur includes 600 new parts, with only the sun visors, grab handles, armrests and some of the front console and controls carried over from the previous generation. The model is available in both four- and five-seat configurations, and includes redesigned front and rear seats trimmed in natural premium-quality leather.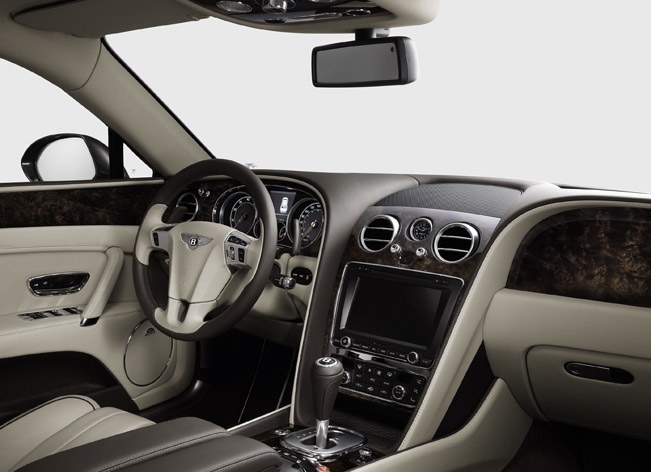 The interior designers have applied the finest wood veneers to finish the cabin of the new Flying Spur. They have used almost ten square metres of sustainably sourced natural wood per car. To enhance the "wrap-around" feel of the forward cabin, the veneer of the dashboard meets that of the doors in a perfectly aligned curve, giving the impression of an unbroken arc of wood around the interior.
Furthermore, the new model will now run on 19" tyres, which have been specifically developed in order to deliver optimum balance between refinement and handling performance.
More importantly, in it is featured Bentley's most powerful engine - the 6.0-litre, twin turbocharged, 48-valve W12. It generates 625 hp (460 kW) at 6,000 rev/min and a staggering 800 Nm (580 lb ft) of torque from only 2000 rev/min. Other important details are that the new Flying Spur delivers a combined cycle fuel economy of 19.2 mpg (14.7 litres/100 km), and CO2emissions of 343 g/km.
In terms of aerodynamism, there is something interesting around the car. As the new Flying Spur approaches 200 mph (322 km/h) top speed, the ride height is automatically lowered via the air suspension system. This enhances vehicle stability and optimises aerodynamic balance.
In addition, the new car has a two-stage lowering strategy, firstly lowering by 5 mm at the front and 10 mm at the rear at 121 mph (195 km/h) and then by a further 8 mm and 13 mm respectively at 149 mph (240 km/h). The multiple-mode Electronic Stability Control (ESC) system is recalibrated to work in combination with the new chassis specification.
Flying Spur will be offered in range of seventeen standard exterior paint colours including Dark Cashmere (a new color added to the palette). The extended paint range of over 100 colours is joined by Damson.
2014 Bentley Continental Flying Spur Technical Specifications:
Engine
Type
6-litre twin-turbocharged W12
Max Power
616 bhp / 460 kW / 625 PS @6000 rev/min
Max Torque
800 Nm / 590 lb.ft @ 2000 rev/min
Transmission
Type
ZF 8-speed automatic with Quickshift, Block Shifting and wheel-mounted paddleshift
Driveline
Continuous all-wheel drive (40:60 rear bias)
Ratios
1st : 4.71; 2nd: 3.14; 3rd: 2.1; 4th: 1.67; 5th: 1.29; 6th: 1.00; 7th: 0.839; 8th: 0.667
Final Drive
2.85
Brakes
Front
405mm ventilated discs (optional 420mm Carbon Silicon Carbide, cross drilled)
Rear
335mm ventilated discs (optional 356mm, Carbon Silicon Carbide, cross drilled)
Wheels and Tyres
Wheels
New 19" (2 finishes), opt 9.5J x 20", opt 9.5J x 21" (3 designs)
Tyres
275/45 ZR19, 275/40 ZR20, 275/35 ZR21
Steering
Type
Rack & pinion, power assisted, speed-sensitive ZF servotronic
Turns lock-to-lock
2.8
Turning circle
11.7 m / 38.4 feet
Suspension
Front
Four link double wishbones, computer controlled self-levelling air suspension, with anti-roll bar
Rear
Trapezoidal multi-link, computer-controlled self-levelling air suspension, with anti-roll bar
Damping
Continuous Damping Control
Dimensions
Wheelbase
3065 mm / 120.7 in
Overall length
5295 mm / 208.5 in
Width (across body)
1976 mm / 77.8 in
Width (inc. mirrors)
2208 mm / 86.9 in
Overall height
1488 mm / 58.6 in
Fuel tank
90 litres / 20 UK gallons / 24 US gallons
Boot volume
475 litres / 16.8 cu ft
Kerb weight (EU)
2475 kg / 5451 lb
Gross vehicle weight
2972 kg / 6546 lb
Performance
Top speed
200 mph / 322 km/h
0-60 mph
4.3 secs
0-100 mph
9.5 secs
0-100 km/h
4.6 secs
0-160 km/h
9.5 secs
Fuel Consumption (EU cycle)*
Urban
12.6 mpg (22.4 litres/100 km)
Extra Urban
27.8 mpg (10.2 litres/100 km)
Combined
19.2 mpg (14.7 litres/100 km)
CO2 emissions
343 g /km
Fuel Consumption (EPA cycle)**
City (US mpg)
12
Highway (US mpg)
20
Combined (US mpg)
15
Emissions Controls
EU 5 and US LEV IISource: Bentley