We Are Crazy About the New Gen BMW Alpina B5 BiTurbo

2016 BMW Alpina B5 BiTurbo has been revealed recently on Alpina's official Facebook page. We immediately wanted to share it with you, because this car deserves nothing else but applauses and admiration.  The car looks stunning, and more importantly its brisk engine has been revised and now offers more.
The vehicle will be offered in two variants: Sedan and Touring. And just like the 50th anniversary edition that has been launched in March, these 2016 model year cars will be equipped with the same lively and updated 4.4-liter V8 BiTurbo. If you do remember well from the anniversary editions, the unit produces the strong number of 600 horsepower (441 kW) and 800 Nm (591 lb-ft) of torque.
SEE ALSO: Two Alpina Edition 50s are Coming Our Way
It is also very fast, because it pushes Alpina BMW B from 0 to 100 km/h (0-62 mph) in the mere 4.2 seconds. The top speed has been electronically limited to 328 km/h. Well, the fuel efficiency is not everyone's cup of tea, but it is definitely not that high. Alpina said that the new generation B5 shows unchanged combined fuel consumption of 9.5 liter per 100 km. The CO2 emisiions stay relatively high: 221 g/km.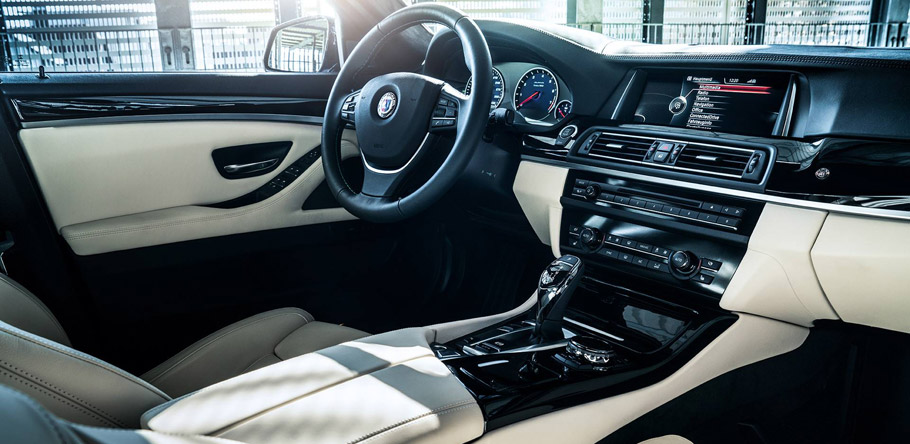 What else is new here? Take for instance the new suspension, which comes with optional active roll stabilization and electronically adjustable dampers. Other optional features here include the brake system with fixed-clippers and the titanium Arkapovic exhaust system, which will also enhance the aerodynamic qualities of the B5 BiTurbo, because it is 17 kg lighter than the standard one.
If you do purchase the standard variant of the BMW Alpia B5 BiTurbo, then you will get at no cost a limited slip differential and very cozy and but luxurious interior that features upholstery from Merino leather and contrasting piano black components.
2016 BMW Alpina B5 BiTurbo Sedan has been priced at 108,600 euro, while the Touring variant has a starting price tag of 111,900 euro.
Source: Alpina via Facebook