Brabus PowerXtra D8
44 hp / 32.4 kW more power and 100 Nm more torque: Those are the two most important performance figures of the BRABUS PowerXtra D8 (III) tuning kit for the two Mercedes models GL 420 CDI and ML 420 CDI. BRABUS offers tuning kits backed by the one-of-a-kind BRABUS Tuning Warranty® of three years up to 100,000 kilometers (see BRABUS warranty conditions, as of June 2003).
The BRABUS PowerXtra D8 (III) power kit unleashes – without compromising safety reserves – the true power inherent in the V8 common-rail turbodiesel engine. With BRABUS PowerXtra D8 (III) tuning rated power output jumps from stock 306 hp / 225 kW to 350 hp / 257 kW at just 3,800 rpm. At the same time peak torque grows from 700 Nm for the production car to 800 Nm with D8 tuning.
Performance benefits accordingly: The tuned ML 420 CDI sprints from 0 – 100 km/h in just 6.0 seconds, half a second faster than the production car. Top speed increases from 235 to 245 km/h. The GL 420 CDI with BRABUS D8 (III) performance tuning also exhibits a more lively character: With 7.1 instead of 7.6 seconds from rest to 100 km/h and a top speed increased from 230 to 240 km/h the big SUV improves noticeably.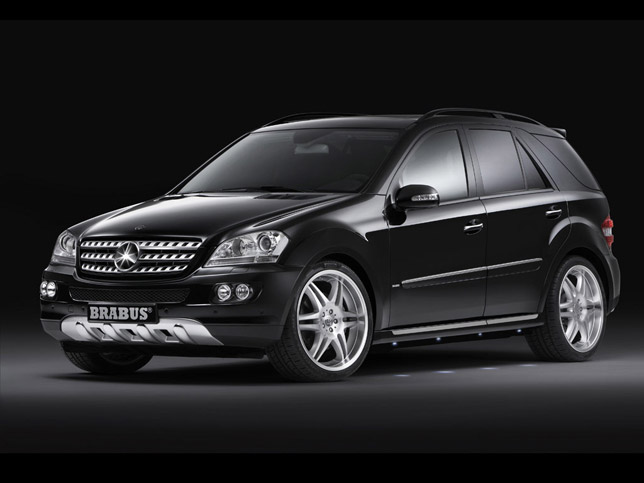 On and off road the BRABUS-tuned CDI engines offer not only excellent performance but - more importantly - strong pulling power and low fuel consumption, which despite the increase in performance remains on the level of the production car.
Just as exemplary are the vehicle emissions: Like their non -tuned brethren the CDI engines with BRABUS PowerXtra D8 (III) tuning meet stringent Euro 4 emission limits. The D8 kit is also suitable for all models equipped with diesel particulate filter.
The processor-driven BRABUS PowerXtra auxiliary control unit is designed as a 'plug & play' device that can be installed in less than 30 minutes by any authorized Mercedes-Benz dealer.