Brabus Mercedes-Benz C-Class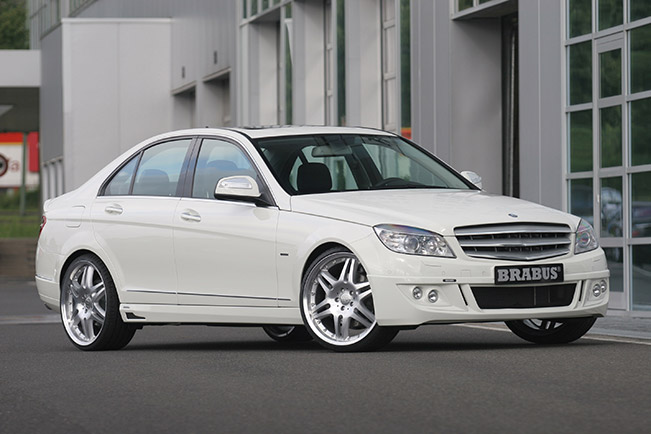 Concurrent with the market introduction of the new Mercedes-Benz C-Class BRABUS presents an exclusive sport program for the new sedan. Highlights of the product lineup are the BRABUS 4.0 displacement engine with 332 hp / 244 kW for the V6 gasoline models, an elegant aerodynamic-enhancement program, light-alloy wheels with 20-inch diameter and corresponding suspensions, plus numerous individual interior options.
BRABUS is world-renowned for its powerful yet clean-burning displacement engines, lubricated exclusively with ARAL motor oil. All tuning components and conversions are backed by the one-of-a-kind BRABUS Tuning Warranty® of three years up to 100,000 kilometers (see BRABUS warranty conditions as of June 2003).
For the new C 280 and C 350 models BRABUS offers its BRABUS 4.0 engine. By installing a special crankshaft and larger pistons displacement is increased to 4.0 liters. Additionally the four-valve cylinder heads are optimized for gas flow, and fitted with special camshafts. The conversion further includes a stainless-steel high-performance exhaust system with metal catalysts, and newly programmed engine electronics.
The impressive results of the conversion are a maximum power output of 332 hp / 244 kW and a peak torque of 420 Nm at 4,200 rpm. Thus equipped, the four-door delivers excellent performance: Just 5.9 seconds pass from 0 - 100 km/h, top speed is 275 km/h in combination with the BRABUS Vmax-Unit.
For the CDI models of the new C-Class BRABUS offers its PowerXtra performance kits. The list starts with the D2 (III) kit that increases power output of the C 200 CDI by 39 hp / 28.7 hp,
and bumps peak torque to 385 Nm. The C 220 CDI with BRABUS D3 (III) kit delivers 195 hp / 143 kW of power and 450 Nm of peak torque. For the top-of-the-line turbodiesel model C 320 CDI there is the D6 (III) power kit. It delivers 48 hp / 35.3 kW of additional power and a peak torque of 590 Nm, turning the new C-Class into one of the world's sportiest diesel- powered cars with a 0 – 100 km/h time of just 6.9 seconds and a top speed of 250 km/h.
BRABUS stainless-steel quad sport exhaust systems are available for all engine variants.
More dynamics for the new C-Class also come from custom-tailored BRABUS tire/wheel combinations with diameters of 17, 18, 19 and 20 inches and corresponding BRABUS sport suspensions, lowering kits and sport sway bars. The largest wheels for the new C-Class are BRABUS Monoblock VI, E and S light-alloy wheels in size 9Jx20 front and back, fitted with tires is sizes 235/30 ZR 20 in front and 265/25 ZR 20 on the rear axle.
BRABUS high-performance brake systems are available for the W 204 model series in two versions and offer maximum stopping power and endurance.
The BRABUS design team also went into the wind tunnel to develop aerodynamic- enhancement components that not only look great but also offer maximum aerodynamic efficiency. All parts are manufactured from high-quality PUR-Rim in OEM quality.
The sporty styled BRABUS front spoiler lends the C-Class a more characteristic appearance with its generously dimensioned air inlets for improved supply of cooling air for radiators and front brakes. It also minimizes lift on the front axle, thus improving directional stability at high speeds. Four integrated auxiliary headlights further optimize active safety. BRABUS offers a three-piece rear spoiler that serves as its aerodynamic counterpart in the rear.
Strikingly styled BRABUS rocker panels create perfect aerodynamic transitions between front and rear wheel arches. The panels are optionally available with integrated LED entrance lights. For the outside mirrors BRABUS offers custom-tailored carbon-fiber covers.
The new BRABUS rear apron with one cutout left and right for the sport exhaust rounds out the exclusive appearance.
BRABUS also enjoys a great reputation worldwide for exclusive interior design: For the new Mercedes-Benz C-Class the company-own upholstery shop handcrafts exclusive interiors from especially soft and breathable BRABUS Mastik leather and Alcantara with utmost precision. The BRABUS program also includes a wide array of individual accessories for the interior. The lineup ranges from an ergonomically shaped sport steering wheel to aluminum foot pedals and 330- km/h speedometer to stainless-steel door sills with illuminated BRABUS logo to precious- wood and carbon-fiber trim sets.