Carlsson Tunes the AMG Version of Mercedes-Benz C-Class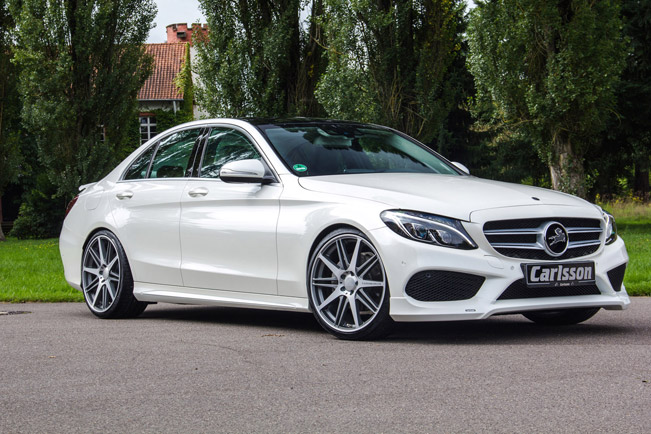 We are already very well familiar with Carlsson's tuning involving the Mercedes-Benz C-Class. However, what we haven't seen yet is how the customizing specialists will handle the AMG version of the car. The stunning result of their work, 2014 Carlsson Mercedes-Benz C-Class AMG W205, is a re-interpretation of the sporty AMG Sports Package version, with a stunning conversion that comprising of an aerodynamic styling package.
The package includes adjustable sports suspension, alloy wheels in classic design as well as a myriad of bespoke interior trim possibilities. Performance improvements for all the engine variants are currently under development.
Despite the sporty and confident appearance of the C-Class AMG, Carlsson's designers have additionally enhanced the looks of the car with their own distinctive styling signature. The goal was to extend the original theme harmoniously. At the front we see this philosophy working via the replacement of the separate air-splitter of the AMG front apron with Carlsson spoiler lip.
At the back of this tuned Mercedes, we see an elegantly shaped spoiler that sits on the edge of the bootlid. The underbody air diffuser can either be colour-coded or painted in a contrasting colour. Each side of the diffuser includes a cutout that frames a pair of Carlsson's signature exhaust tailpipes.
The engineers at Carlsson have developed two levels of suspension upgrades. The first one is the basic option, which comprises of a set of four Carlsson sports springs that work with the standard dampers. They serve in terms of lowering the ride height by 30mm for a sportier look and better handling. The second option is a height adjustable coil-over suspension kit. It allows the driver the ability to adjust the ride height as well as bounce and rebound control.
This Carlson model runs on Carlsson 1/10 wheels in either a Brilliant or Titanium Editions. There is also 1/10 Graphite Edition and 1/16 RS Diamond and Titanium Editions, which are also available.
Inside, the interior of the vehicle includes polished aluminium scuff plates with an illuminated Carlsson logo for driver and aluminium door lock pins, pedal set and footrest, all with the logo. There is also a four-piece floor mat set from soft black velour. It features front mats carrying tuning company's logo in white stitching. The available illuminated floor mats set is made of soft velour. Here the Carlsson logo is illuminated in stylish white on the front mats.
Source: Carlsson