Sporty BRABUS Refinments for the C-Class with AMG Line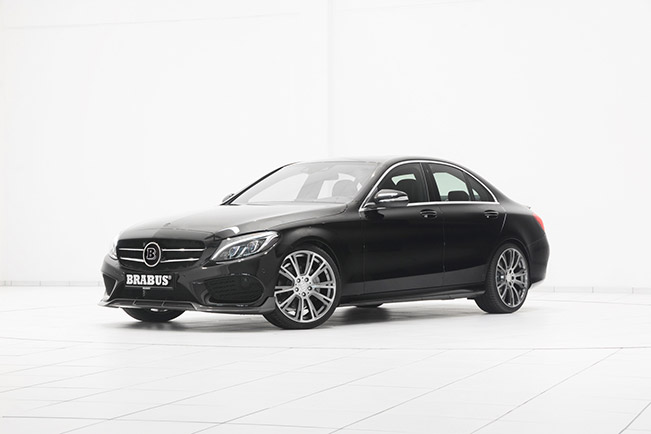 The continuous and tireless work by BRABUS has resulted in some very impressive improvements for Mercedes-Benz C-Class with AMG Line. This time around, the tuning company offers even better sporty and dynamic bodywork upgrades which propel the C-Class models further in their segment.
It is a well-known fact that the most significant and exclusive engine tuning program for Mercedes-Benz automobiles is offered by BRABUS. Thus, BRABUS PowerXtra B18.2 performance kit is available for the C 180 model which powers it with an additional15 kW / 21 horsepower (20 bhp). The plug-and-play module is adjusted to the engine electronics, and boosts power output from 156 HP (115 kW) to 177 HP (130 kW). The maximum torque is increased from the initial 250 to the impressive 300 Nm (184 to 221 lb-ft). The car accelerates from 0 to 100 km/h (62 mph) in 8.4 seconds while top speed is boosted to 230 km/h (143 mph).
The C 200 model is powered by BRABUS PowerXtra B20.2 performance kit. As a result, the four-cylinder turbo engine pumps out a maximum power output of 225 HP (165 kW) and a peak torque of 330 Nm (243 lb-ft). With BRABUS engine tuning the C 200 speeds up from rest to 100 km/h (62 mph) in only 7.0 seconds, accomplishing a top speed of 242 km/h (150 mph).
Another improvement on the C-Class arrives with the BRABUS Monoblock wheels which complement the sensational BRABUS look of Mercedes-Benz. The wheels can be mounted on the C-Class in various designs and with diameters of 18, 19 or 20 inches. The largest safety-certified tire/wheel combination is comprised of BRABUS Monoblock F or R alloys of sizes 8.5Jx20 at the front and 9.5Jx20 on the rear axle. The high-performance tires of sizes 225/35 ZR 20 and 255/30 ZR 20 are available by BRABUS technology partners Continental, Pirelli and YOKOHAMA.
The complete BRABUS appearance of the C-Class is also achieved thanks to the specifically styled BRABUS front spoiler attaches to the lower part of the AMG Line bumper which highlight the sporty look of the sedans. In addition, all vehicles in this range can be equipped with the BRABUS rear spoiler. The diffuser-look rear bumper insert is another enhancement which provides the perfect backdrop for the four chrome-plated tailpipes of the BRABUS sports exhaust system.
Finally, the tuner provides a number of refinements for the interior of the new Mercedes C-Class. Buyers can enjoy a variety of custom accessories such as aluminum pedals and excellent velour floor mats with BRABUS logo, as well as other exceptional BRABUS breathable leather and Alcantara interior components.
Source: BRABUS