Putting BRABUS to shame: a comprehensive guide by Vilner Bulgaria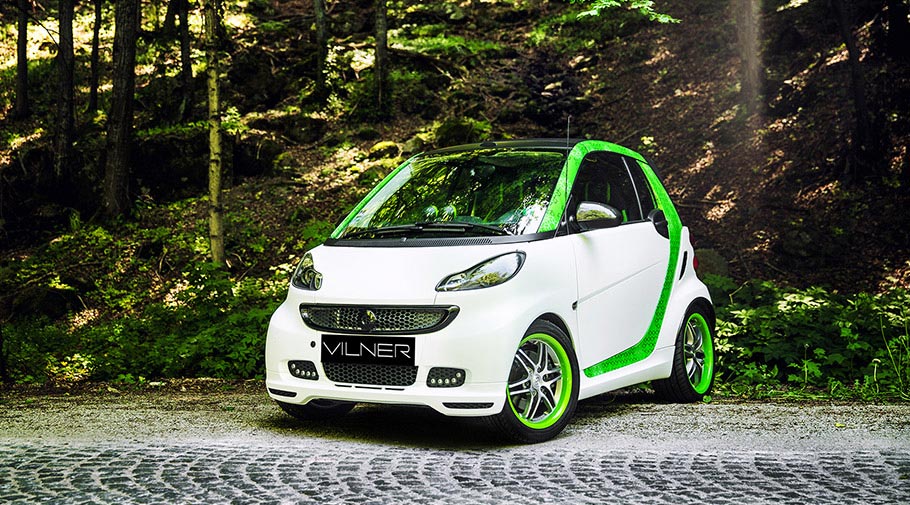 You do remember this teaser, don't you? And perhaps you do remember how excited we were when it first came out. Finally, here we are reviewing the final product - 2012 Smart Fortwo Brabus Xclusive, heavily revised by our fellow team of Vilner: the magicians from Bulgaria who know how a comprehensive and high quality tuning is made.
In Vilner's own words, this is the smallest vehicle that has left tuner's workshop, but at the same time is one of the most comprehensive projects ever made, due to the complexity of revision and additions. As always, Vilner has spent most of its attention revising the already updated interior by Brabus. As it seems, our Bulgarian friends were not satisfied at all with what Brabus has offered and decided to make something in order to make the cabin shine.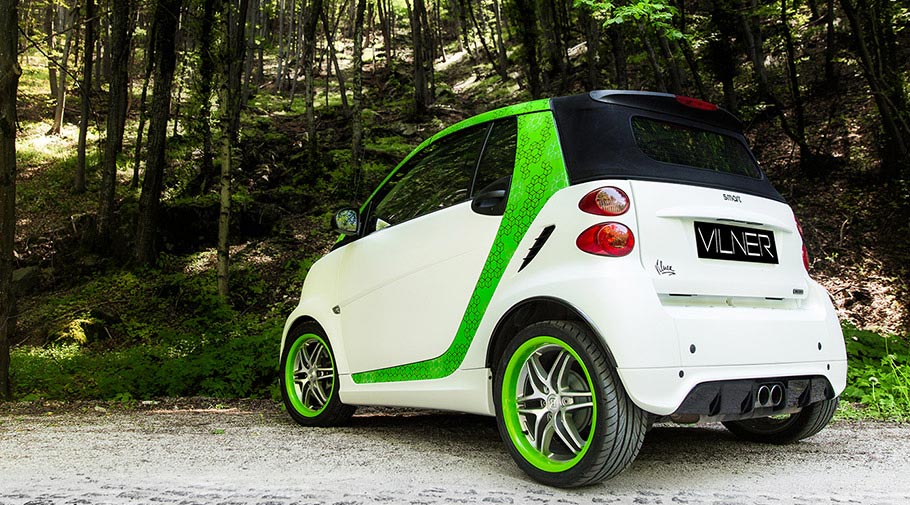 The first thing that Vilner has done is to add numerous lightweight carbon-fiber components. These additions not only contribute to the overall sporty spirit, but also add a kick to the luxurious atmosphere. What catches the eye is the steering wheel: it is covered with fine leather, green accents and black Alcantara. It definitely looks super sporty, but elegant at the same time. Long story short, Vilner knows how it's done.
Of course, every interior detail is serving a single purpose: to contribute to this overall incredibly fresh and advanced styling. Although it is masterfully shaped, the steering wheel plays just a part of the whole show. The central console, door panels, handles and, in fact, every single detail has received tons of attention and we could stare every single one for ages. This is how beautiful the final product is.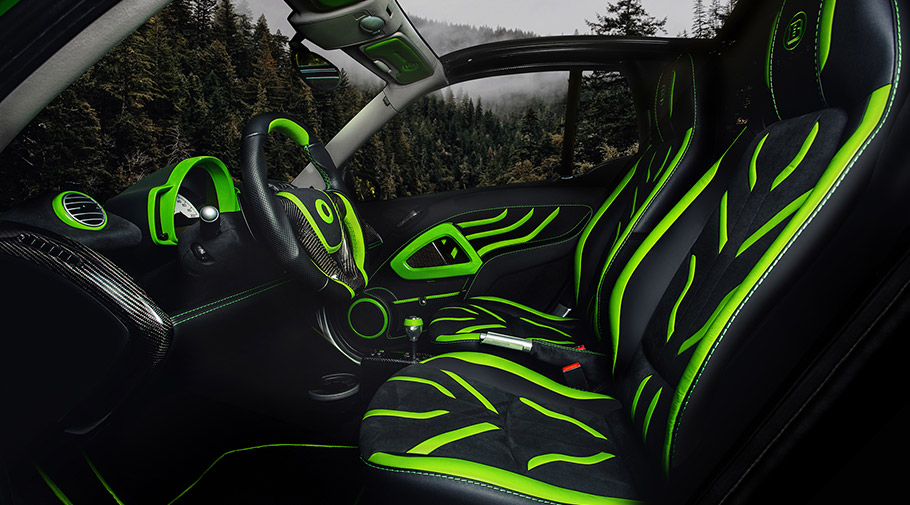 In fact, we tend to believe that Vilner not only disagrees with the engineering and styling solutions made originally by Brabus, but completely rejects the original tuning ideas. And let's be honest here – sometimes Brabus team tends to make awkward mistakes. Luckily, the darkened colors, cheap plastic components and the overall unappealing design solutions are no more. Vilner is the new star of the show. A well-deserved position, if you ask us.
SEE ALSO: Audi TT Roadster by Vilner. Astonishing.
The seats continue this concept idea of a blend between black high-quality leather, Alcantara and sweet electric-green inserts. We also like the electric-green stitching. In fact, we see something incredible: even disappointed by Brabus, Vilner team still pays respect to the German tuner by adding a large "B" logo on the seats. We also can see that the gearshift lever still contains the Brabus logo. Neat, isn't it?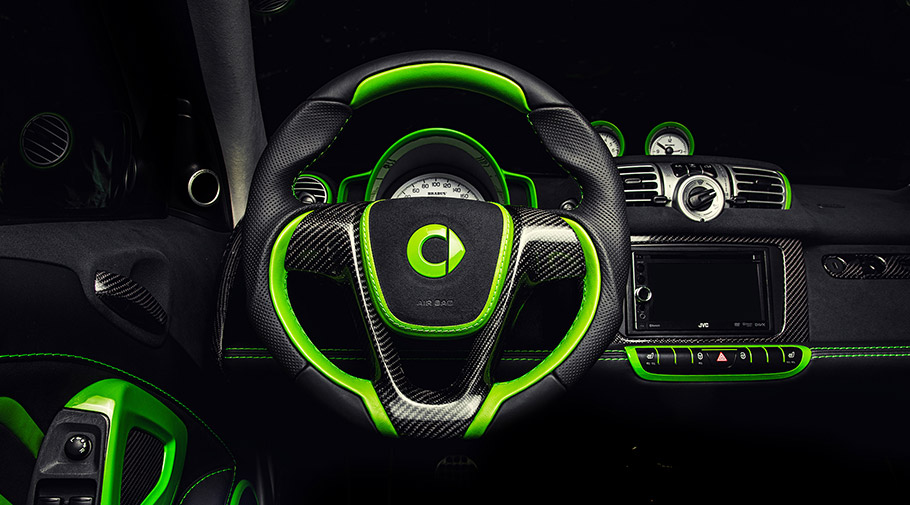 We also have to admit that the interior looks super fresh and summer-ish: numerous black and grey components were changed with light electric-green and white ones. These include the speed meter, clock and many more. Even the backlights are changed in order to match the design concept. Of course, we do see this notable "Deisign by Vilner" insert.
Maybe the best thing of all is that Vilner team have decided to tweak the exterior styling in a way that fits the whole interior concept idea. With razor-sharp precision, the engineering team has covered the exterior panels with white covers, neat electric-green accents and this sweet 3D square graphics. The exclusive Brabus wheels are still present, but benefit from an electric-green ring. Also, neat contrast in colors is achieved by covering the front grille, emblem and diffuser with metallic black cover. And the insert that is my personal favorite: the super-elegant carbon-fiber detailing that is placed just above the rear wheels. Vilner team knows how to impress with style and precision. Definitely.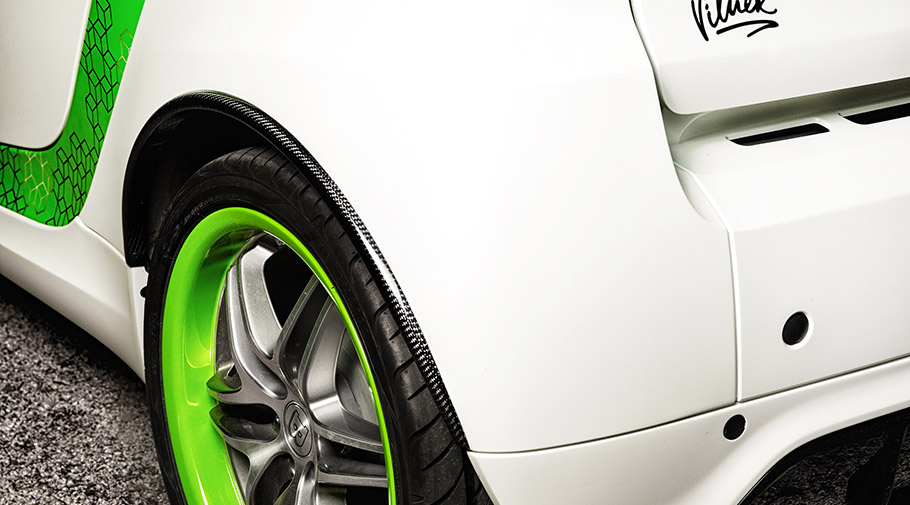 And for all of the touring maniacs out there: the Bulgarian tuning team has included an exclusive and purely unique bag: of course, it completely resembles vehicle's color scheme. Made with carbon-fiber leather, Alcantara and a handle that is made of the same fabric that the seatbelts are made.
And there you have it: Smart Fortwo Brabus Cabrio by Vilner. Enjoy!
Source: Vilner Bulgaria
Images Source: Vilner Bulgaria
Video Source: YouTube
Video Channel Source: VilnerStudio