Bugatti Veyron 16.4 Grand Sport at Qatar International Motor Show
The legendary European manufacturer Bugatti took part in this year's Qatar International Motor Show. This is the second time, in which the brand takes part in the Motor Show. This time, Bugatti has just presented an exclusive and uniquely colored model of the Bugatti Veyron 16.4 Grand Sport. In details this is the fastest, most powerful and most luxurious open top car in the world.
The model has a unique color and is made from unique materials, thus making it unique car. It has a horizontal color split with a bright yellow body framed in visible black carbon, including black-tinted wheels. This impressive color contrast is continued inside in the interior of the car with seats finished in yellow-colored leather with black stitching. Additionally, the middle console is in black carbon, while the dashboard, steering wheel and gearshift are made of black leather with yellow stitching. And if you wonder how much such piece of art would cost, well you have to be prepared to hear the sum of 1.58 million Euros. Not a car for anyone, isn't it?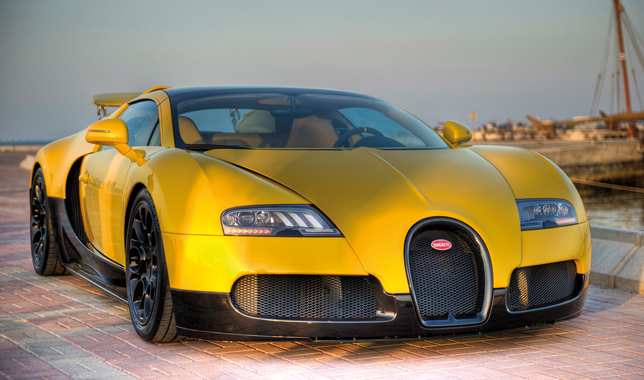 To go further into details, the last sale of Bugatti Veyron coupé was in June 2011. With this it marked an end to the successful era and exclusive production run of 300 units of the supercar and its even faster cousin the Super Sport. Now the Bugatti Veyron 16.4 Grand Sport includes supreme technology. For example when the roof is on, the vehicle can reach a top speed of 407 km/h, while speeds of up to 350 km/h are possible with the roof off. It is not a surprise therefore, that this makes the Grand Sport the fastest roadster in the world! Moreover the Bugatti Veyron Grand Sport 16.4 will be assembled by hand at the company's headquarters in Molsheim, France. Of course, the customers will have the opportunity to tailor their vehicles to their personal preferences and taste by choosing from a broad array of exquisite materials and colors. This model which is on display in Qatar, demonstrates an ever growing number of options. However Bugatti Automobiles S.A.S. has limited the Grand Sport to only 150 units of which 105 slots are still open.
Source: Bugatti