Cadillac Ciel Concept
Huge open-top¸ four-doors, elegant lines and enormous front hood? That's right – Cadillac, but this time – Ciel Concept, which was introduced at the Pebble Beach Concours d'Elegance.
Of course, the picture needs a twin-turbo 3.6 liter V6 to be completed. The power is more than satisfying for a blast in the hair – 431PS (317 kW) and 583Nm (430 lb-ft) of torque. The all wheel-drive is present. However, we don't like that. The open-tops need to be rear-wheel-drive… PERIOD!
The interior is awesome:
* Sloping bolsters on the seats that allow passengers to slide into the seats more comfortably * A personal device storage area on the front of the console with inductive charging and Bluetooth connectivity * A power-assisted transmission shifter that deploys as soon as the engine is started * Lighting in the armrests that combines a natural light well for daytime driving and ambient lighting for nighttime drives * Door storage areas that are inspired by premium fashion accessories and open with high-quality zippers * Pull-out blankets are available for all three passengers and retract automatically * All the seats have heating and cooling features, along with a drawer containing sun lotion, sun glasses and towels, as well as aromatherapy that is controlled from the rear armrest.
Finally, the Ciel Concept comes with carbon ceramic brake rotors behind the 22" rims. We are in love with this car and hopefully it will go in production. It just has to be seen on the road with four ladies inside it. Sexy!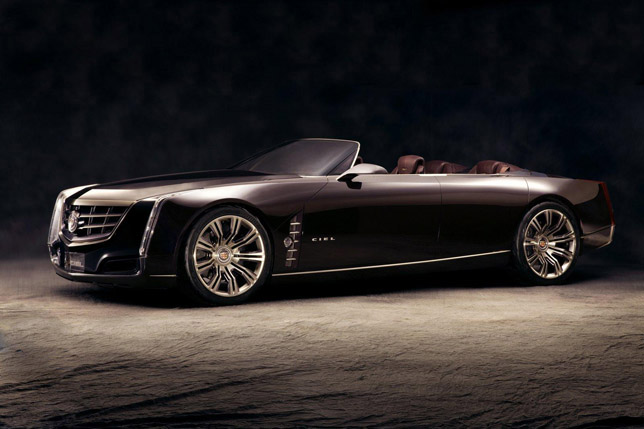 Check out the specifications, below!
Cadillac Ciel Concept
Body style / driveline:

Four-door, four-passenger convertible with longitudinally mounted front engine and all-wheel drive Wheelbase (in / mm): 125 / 3175 Length (in / mm): 203.7 / 5174 Width (in / mm): 77.5 / 1968 Height (in / mm): 50 / 1270
Engine type:

3.6L V-6 with twin turbochargers; DOHC, continuously variable valve timing and direct injection Horsepower: 425PS  (317kW) Torque: 583Nm (430 lb-ft)
Transmission:

Hybrid with low-speed all-electric drive
Front suspension:

Independent SLA with monotube shock absorbers and stabilizer bar
Rear suspension:

Independent multilink with monotube shock absorbers and stabilizer bar
Brakes:

Four-wheel disc with ABS; vented front rotors with six-piston calipers and solid rear rotors with four-piston calipers
Wheel size and type:

9J x 22" aluminum with brushed nickel accents