The Carlsson CK63 RS (CLS 63 AMG) at Geneva
It's rare to see people expressing discontent from an AMG product, but just to be safe, German tuning house Carlsson have an ambitious project - The Carlsson CK63 RS. It is based on the current Mercedes-Benz CLS 63 AMG but with a bigger bite, lower ride and a dash of exclusivity. Carlsson do mean business, for a performance bundled version of the CK63 RS is set to appear to the public at the 2012 Geneva Motor Show.
The standard CLS 63 AMG with Performance package has a 5.5 V8 biturbo engine that feeds 557 BHP and 800 Nm of torque to the AMG Speedshift 7-speed sports gearbox. After Carlsson had finished working with it, that bar had been set even higher even higher, or so they claim - 652 BHP and one thousand Nm of torque. That is why, the Carlsson engineers also saw fit to instal an additional transmission oil cooling system. All this effort translates into a time of 4.1 seconds on the 60mph sprint. A very loud sprint if we may add. The exhaust system has been replaced by a tailor-made, multi-flow, complete stainless steel setup with downpipes, metal catalysts and front and rear silencers. Of course you can tone it down to become as silent as a gentle purr, thanks to the exhaust damper system controlled manually from the driving seat. But who would leave it like that?
Few would dare to modify the handling of a Performance package AMG but the newfound power calls for some tweaks – the front axle springs have been replaced with Carlsson springs with more progressive spring characteristics. Also as a consequence the ride is now 30 mm lower. The whole car sits on 1/10-type Carlsson wheels - 9 x 20" rims at the front and 10.5 x 20" at the back.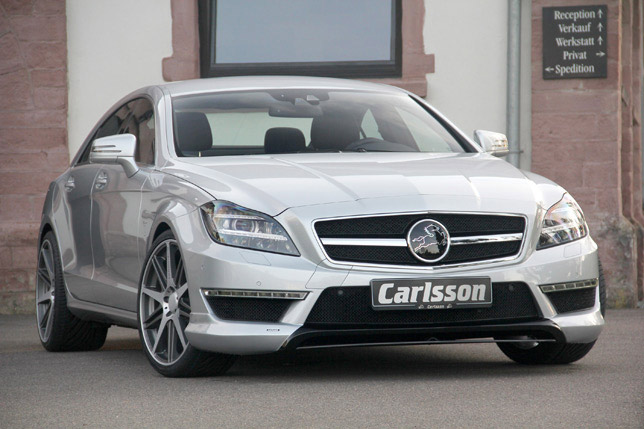 More personality is added when we look at the aerodynamic features of the Carlsson. A front spoiler and RS carbon spoiler lip decorate the nose while at the back we have a custom diffuser and a rear spoiler for greater downforce.
The interior of the CK63 RS can best be described as a blend of mocha-brown leather, brown Alcantara, carbon fiber, natural woods and more. The leather used is wet-dyed, providing the feeling of a fine leather glove and, because the finished product is 1/1.4 millimeters thick, it is also particularly durable. Other Carlsson highlights include the foot mats, door sill panels with blue, illuminated Carlsson lettering and door-locking pins made from polished aluminum. It's not all upholstery though. We do not excel much in IT, but the Carlsson have fitted a 'Viprinet Multichannel VPN Router 500'... which sounds fast. In fact it is. The company says that with this the RS will have a stable high-speed Internet connection even at high speeds.
Source: Carlsson