Carlsson smart ForTwo at Geneva 2012
What is there to tune on a smart ForTwo? It's 2.70 meters long. There are mufflers longer than that. Well, Carlsson beg to differ. At this moment, in Geneva somewhere on a tiny stand sits this thing – the Carlsson ForTwo Coupe. It excels in aerodynamics (apparently), it benefits from a power boost, it sits on some neat wheels, the interior is refreshed and mainly, it's black and orange.
It's amazing how much you can do with so little... on something little: The 84 PS smart 1.0 liter, 3-cylinder engine now has a sports air-filter an ECU tweak that rises the bar to 112 PS. Torque is also up by 38 Nm totalling at 158 which are readily available as early as 2000 rpm. 0 to 60 mph takes 9.9 seconds while top speed is 96 mph.
Looking from behind, we see four oval tailpipes shaping the end of a flow-optimised Carlsson resonator that will send unsuspecting onlookers in shock. The rear bumper accommodates them perfectly while a Carlsson front spoiler houses LED daytime running lights. The suspension at the front is lowered by 15 mm while the back – 30mm. 6.5 and 7.5 17-inch Carlsson light alloy wheels finish the look.
Inside a feast of quilted nappa leather awaits you to rest your head on the Carlsson marked headrests. The same goes for the steering wheel, dashboard, glove box, gearstick and door panels. The hand brake is from aluminum and a set of Carlsson floor mats a boot mat in soft velour with Carlsson logo and high-quality aluminium pedal covers round out the interior refinement.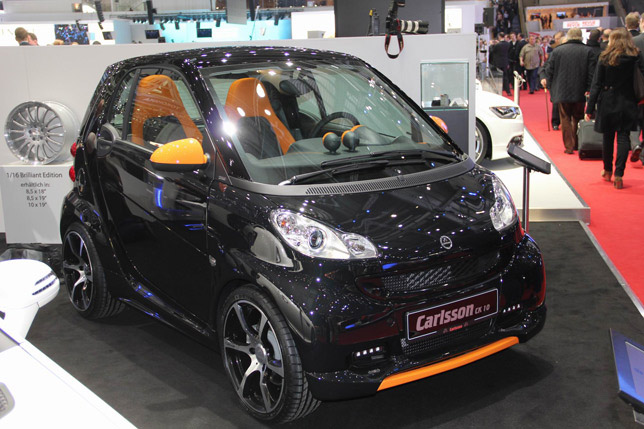 Source: Carlsson