Carlsson Mercedes-Benz SLK 340 Race Car Revealed In Geneva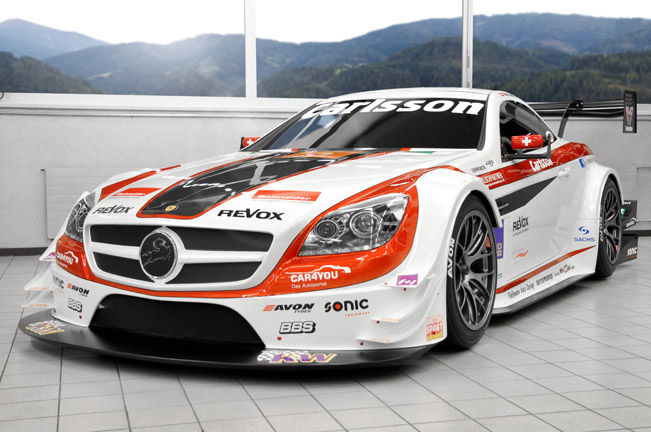 Carlsson Mercedes-Benz SLK 340 Race Car is currently being exhibited at this year's Geneva Motor Show. The latest racing project of the tuning brand Carlsson will celebrate there its world debut.
The unique race car exudes the most modern design and incorporates the lates construction technologies. The model on which it is based is the Mercedes-Benz SLK 340 and in addition it will be entered in national and international hill climb races in Category E1.
The model was announced in the end of January as a newcomer to international motor sport. The car has been constructed on a body shell with the aim of significant reduction of weight.
This goal has been achieved thanks to the extensive utilization of most modern materials such as ultra-lightweight carbon body kit. The end result is that the Carlsson SLK 340 weighs only 780 kilograms. In addition, the aerodynamic parts here contribute towards spectacular appearance and perfect downforce.
Furthermore, the closed underbody is intended to optimize the aerodynamics of the hill climb car. Although there are extensive changes, this Mercedes-Benz in its racing suit with its powerful rear wing looks extremely stylish.
At the heart of the model lies a 3.4 liter V8 engine producing 610 hp (449 kW) with a maximum torque of 430 newton meters (319 lb-ft). Here, Hewland has delivered transmission with a paddle shift. What is more, a 3-way adjustable KW competition suspension is what delivers maximum road holding for the race car on BBS racing wheels which are in sizes 10x18 for the front, and 13x18 for the rear). They have been perfectly matched with AVON tires.
Next, ultra-lightweight materials have been also used in the brake system. The latter provides additional savings in weight. On the other hand, in terms of interior, there are included the special Carlsson racing seats which deliver excellent lateral support. Ssafety cage has also been installed.
Source: Carlsson