Citroen C4 Cactus AIRFLOW 2L Concept to Debut in Paris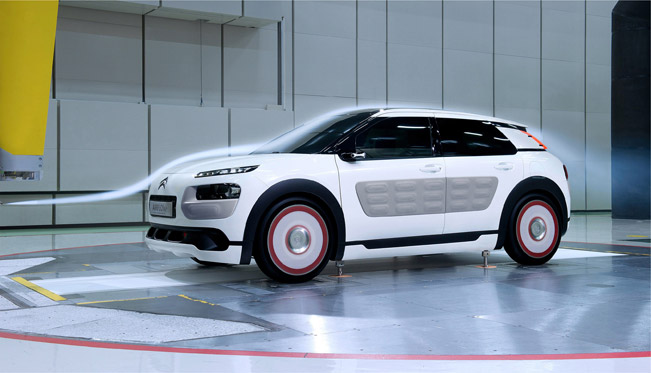 Citroen C4 Cactus AIRFLOW 2L Concept is going to be officially premiered at the Paris Motor Show this October, showing its environmental credentials and great fuel economic pressures. The vehicle is packed with advanced technologies that offer innovative responses to the automotive challenges of the present and those of the future. This Citroen delivers breakthrough fuel consumption of 2l/100 km (over 141mpg)!
This is due to the fact that it has optimised design with a 20% improvement in aerodynamics, it runs on lower rolling resistance "tall & narrow" tyres, it is built with lighter parts that reduce overall vehicle weight by 100kg and at last but not least – it features the Hybrid Air technology, which cuts fuel consumption by 30%.
This C4 Cactus features a body optimized for aerodynamic performance. This means that some styling features have been modified and others created in order to optimise vehicle aerodynamics. For instance, the new front bumper includes three air intakes that continuously adjust in accordance with vehicle use, both for engine cooling and to regulate air flow. There are mobile side deflectors added to effectively guide the air flow around the vehicle. The wheels feature mobile shutters activated and controlled by centrifugal force.
The fixed-geometry components include: new generation 19-inch "ultra ultra" low rolling resistance "tall & narrow" tyres, wheel arches with "Air Curtain", lengthened spoiler smaller and slimmer rearview cameras instead of rearview mirrors and LED light modules at the front and rear instead of the existing lights. The colour orange identifies all the aerodynamic features and underlines the high-tech character of the C4 Cactus AIRFLOW 2L concept.
In terms of weight, this concept is 100 kg lighter than the production C4 Cactus. To achieve this, Citroen has reduced the weight of many structural components, with the body sub-structure featuring new materials such as aluminium, for the upper cowl panel, inner side members and rear floor pan, high-yield steels, for the front side rails and heel board and composite materials for the front of the vehicle floor.
Furthermore, in this project the French company utilizes the Hybrid Air technology for breakthrough fuel consumption, which combines a range of proven sub-systems and technologies. Precisely, this includes a 3-cylinder PureTech petrol engine, a compressed air energy storage unit, a hydraulic pump/motor unit and an automatic transmission with an epicyclic gear train.
In addition, the intelligent electronic management system manages input from the driver to optimise energy efficiency. There are three operating modes are available: zero emissions Air power mode, where the compressed air motor takes over from the petrol engine; Petrol power, using only the combustion engine; and Combined power, drawing upon both the combustion engine and the compressed air.
The combination of PureTech 82 engine and Hybrid Air technology minimizes fuel consumption by 30%. In addition, it also contributes to achieving a vehicle capable of 2l/100 km, while approaching the PureTech 110 in terms of dynamic performance.
Citroen C4 Cactus AIRFLOW 2L Concept Technical Characteristics:
Unladen weight: 865kg
Length: 4,156mm
Width: 1,729mm
Height: 1,487mm (to be confirmed)
CdA: improvement around 20%
Hybrid Air drivetrain mated to the PureTech 82 S&S engine
Tyres: Michelin 155/70/R19
Source: Citroen