Citroen Connected Services at the 2014 Paris Motor Show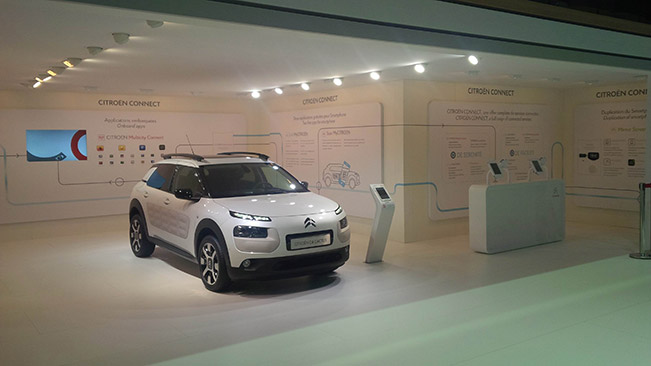 It is not surprising to see that CITROËN has revealed some very interesting concepts and products at the 2014 Paris Motor Show. Displaying a rich number of connected services that are based on onboard or smartphone apps CITROËN strives to turn the everyday driving into a safer, more entertaining, more convenient and, finally, time and money-saving experience.
As the CITROËN Director of Marketing, Communication and Sport pointed out, "The services provided by CITROËN CONNECT are a practical and positive response that makes life easier for our customers."
At the Motor Show, the brand name presented its connected services on five walls in an area that encompassed 67.50 m². One of the best parts about the exhibition is the fact that CITROËN CONNECT allowed customers and visitors to try out their services either on demonstration units or on the displayed CITROËN C4 Cactus in the center of the CITROËN CONNECT dedicated area.
Examples of what CITROËN CONNECT includes and can offer to clients are:
CITROËN Connect Box that offers an emergency and localized assistance call functions.
Link MyCITROËN which represents a free smartphone app. It is available on the C4 Picasso and C4 Cactus and it serves to provide a current location of the vehicle, offers eco-driving tips and so on.
Mirror Screen is another service by CITROËN which is available on the new C1. Its function is to let users control a smartphone from the touch drive interface of the vehicle.
MyCITROËN, is a free individual online page which enables easy management of the car.