Meet this Custom Carbon Lamborghini Huracan by VOS

VOS is an acronym which stands for Vision of Speed. This is the name of the German tuning company, which has just released a special project involving a Lambo Huracan. They have individualized the vehicle and as they said – made it more individual than ever. And of course all is achieved with the help of carbon parts.
To go directly into details, the conversion kit comprises only of carbon fiber elements: front lip, mirror caps and door handles. Well, the new in-house made door sills aren't from this material but they have been also changed.
SEE ALSO: Vorsteiner Shows Custom Huracan Verona Edizione 
In addition, the ergonomic steering wheel is the first choice of substitution for the original one, while there are also facings in fine structure carbon for the original steering wheel. In terms of gearshift paddles, one can choose between new parts in full carbon or add-on parts in fine structure carbon.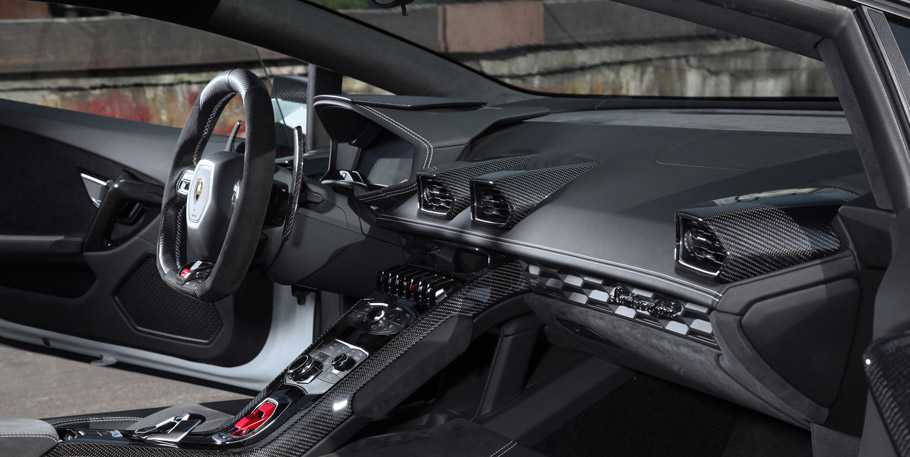 The instrument cluster that is made by VOS is also made of the lightweight material. There are also carbon facings for the air inlets, upper frame for the center console in full carbon, lateral frames for the center console, gas cap in full carbon, VOS Performance rear wings and individual carbon plate as well as a facing for the rear diffuser bottom.
VOS is offering not one but two exhaust systems for the Huracan. The first one is in-house made, while the second is by Akrapovic. The ultimate car can also get BMC sports air filter. Adjustable rear wings are still to be added to the list of features as is the new wheel set for the fighting bull.
More details for this project to come soon!
Source: VOS