This Huracan Final Edition sets new standards among bespoke rivals

VOS Performance offers high-end tuning for the iconic Lamborghini Huracan
In 2015 we witnessed the birth of VOS Performance's bespoke conversion for the Lamborghini Huracán, which captured our hearts entirely. What made this tuning so special is that the creators have based their ideas on the motto "Think outside the box". As a result, the experts at VOS considered a rather "holistic approach" to the customization, thus offering for the Huracán an extravagant individuality combined with exclusive craftsmanship.
Now, the creative minds at VOS Performance have put out a brand new version of the standard Lamborghini Huracán called "Final Edition". Here, the approach they took in the transformation is to blend aesthetics and engineering.
SEE ALSO: Meet this Custom Carbon Lamborghini Huracan by VOS 
At the front, the new carbon-fiber spoiler lip has been subtly changed but still it is a totally functional component that blends in with the lines of the car. In contrast, the large carbon-fiber rear lower diffuser and the two different designs for the carbon-fiber rear wing offer a sporty and aggressive take on the standard back end.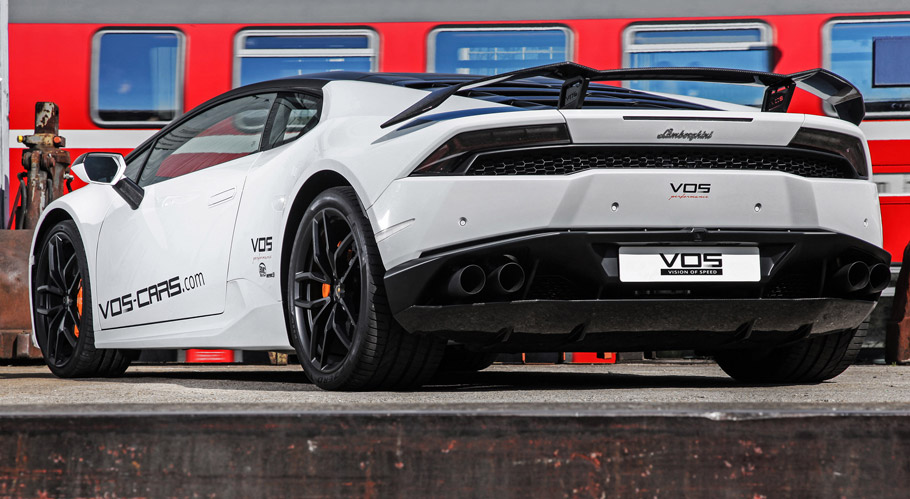 By the way, the factory rear spoiler has been locked down, thus superseding its function providing positive downforce required for unerring high-speed stability in a straight line and in fast sweepers. Next to the aerodynamic optimization VOS Performance has prepared for the Lambo a high-performance sports spring set, which lowers its ride height by 35mm.
Leaving the exterior aside, Huracan's interior is stylishly adorned with carbon fiber elements on the door panels, centre console, air vents and paddle shifters. In other words, VOS Performance Lamborghini Huracán Final Edition is a project finished in its totality. Tuners did not make any sacrifices on the interior, and this is why we dig this project very much.
Source: VOS Performance