DEBUT: 2014 Vauxhall VXR8 GTS Delivers 576 Horsepower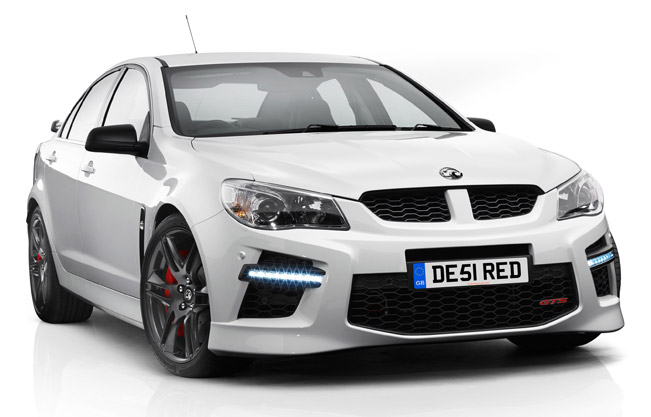 The new 2014 Vauxhall VXR8 GTS is equipped with Eaton supercharger and 6.2-litre LSA V8 engine that drives the rear wheels. This means that it is capable of delivering nearly 600 hp (441 kW) and a soundtrack guaranteed to make your hairs stand on end.
The vehicle is based on HSV's GEN-F GTS and it is propelled by the new supercharged LSA V8 unit that is identical to that utilized in the recently launched Chevrolet Camaro ZL. To be more precise it delivers 576 hp (426 kW) and 739 Nm (545 lb-ft) of torque. This means an addition of 150 hp (110 kW) and 190 Nm (140 lb-ft) respectively over the outgoing LS3-engined VXR8.
In addition, the other highlight featured in this Vauxhall GTS model is the new VXR8's Eaton supercharger which has 4-lobe rotors, 9 psi boost and 1.9 litres of air per revolution. The supercharger provides the VXR8 with stronger and more linear performance across its entire rev-range. Moreover, the other LSA features are the stand-alone water to air charge cooling system, the separate transmission and differential cooling system, the water to oil engine cooling system, the Bi-modal air-intake system and the high-flow exhaust manifolds and exhaust system with Bi-modal silencers.
This unique engine is matched with the latest MG9 spec six-speed manual transmission with oil cooler and twin-plate clutch as a standard. There is also available an optional six-speed automatic transmission.
The VXR8 GTS has a brand new front-end design: bold graphics and shallow ramp angles emphasize vehicle's width and stance. However, the highlight of the front fascia is the 'twin-nostril' grille which effects in more aggressive look and an air intake surface large enough to cool the LSA V8. The daytime running lights now work when the headlights are turned on. What complete the design are the 20-inch 'Blade' forged alloy wheels.
On the other hand, there are also some changes made to the rear. For instance, this vehicle is equipped with distinctive LED tail lamps, a 'diffuser' with exhaust outlets finished in shadow chrome and body-coloured performance rear spoiler with black accents.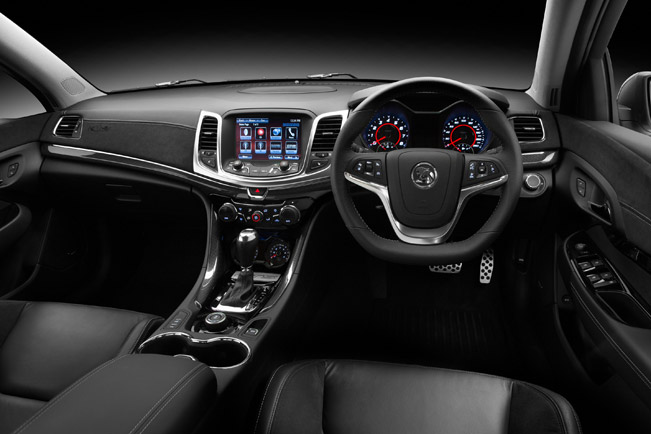 The interior of the car has also received numerous changes when compared to the previous model. There is an upgraded instrument panel with suede-style inserts, a new instrument cluster, gauges, centre console, appliqués and door trims. In addition, there can also be seen VXR Performance Seats wrapped in Onyx leather trim and feature 8-way electric adjustment and seat heaters.
Some extra performance is ensured by Brake Torque Vectoring technology that helps decrease the understeer by producing a 'rotational moment' in the rear axle while the car is under power. What is more, there is also featured an Electronic Stability Control (ESC), Magnetic Ride Control (MRC) with three independent settings: Touring, Sport and Track, hardware and software improvements.
Vauxhall VXR8 GTS runs on wide tyres, namely the Continental 255/35 R20 at the front and 275/35 R20 at the rear. Additionally, vehicle's braking capacity has been enhanced thanks to the fitment of AP forged 6-piston calipers with two-piece discs front and rear.
Finally, the range of technologies included in the VXR8 feature Side Blind Zone Alert with Reverse Traffic Alert, Automatic Park Assist, Front, Rear Park Assist, Reversing Camera, Passive Entry/Push Button Start, Head Up Display, Forward Collision Alert, a camera above the rear-view mirror and Lane Departure Warning.
2014 Vauxhall VXR8 GTS has a starting price of £54 999.
Source: Vauxhall