DMC Lamborghini LP700 Molto Veloce Photographed By Jordan Chong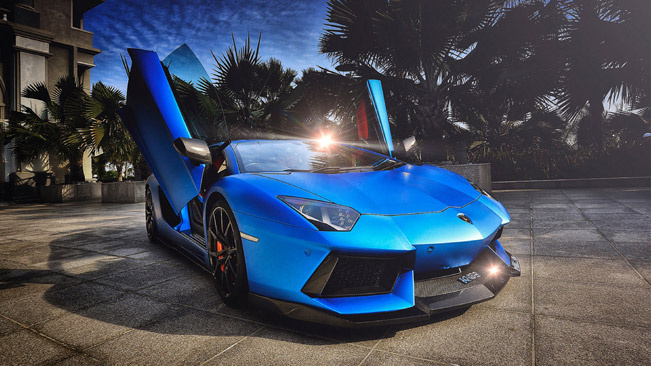 DMC Lamborghini LP700 Molto Veloce is equipped with the stunning package delivered by the luxury tuning brand which strengthens even more the capabilities of the iconic vehicle. One of the latest cars released is the presented matte blue MV, which was chosen by Malaysian artist Jordan Chong for a series of unique photos.
This Lamborghini immediately stands out, not only because it is equipped with the DMC styling package, but also because the owner of the car decided to wrap the original orange car with a matte blue foil. The exterior also features metallic particles that glow in sun shine.
What is more, this particular vehicle is under its way of additional enhancement and will soon become a DMC's SV. SV stands for Spezial Version, which means that the rear fascia, including the whole bumper, was replaced with a full Carbon Fiber one, while the rest of the car includes the tuner's Molto Veloce kit.
The unique expressive front fascia for instance is quipped with a redesigned spoiler sword and a stunning front-splitter lip. These elements were again created of pure carbon fiber. Next, the new side skirt diffusers aim to improve the overall aerodynamics as well by bringing road stability.
In addition, the new rear fascia comprises of a lightened carbon fiber diffusor and an added tunnel system, which enhance the down force on the rear axle. It is completed by a rear wing spoiler which strengthens the aerodynamics on the rear axle.
In terms of performance, DMC has decided to use 12 unique single intake throttle plates, one per each cylinder. Gasoline pumps and - lines, as well as pressure modulators and injection nozzles were substituted with new components.
The engine electronics were also enhanced via the added electronic load pressure control system and new wiring. This leads to a rebrand of the engine to a LP900. The power-mod is supported by a brand new Titanium Exhaust system which is lighter than the original one and weighs only 3.45 kg (in contrast to the 34 kg of the stock exhaust system).
Source: DMC