DMC Reveals Lamborghini LP988 Edizione GT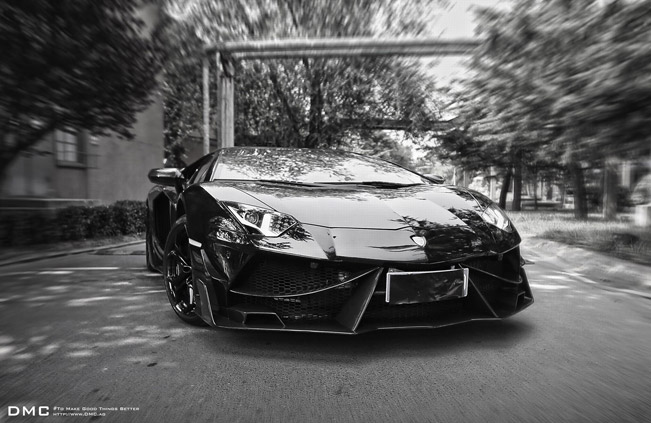 It is fast, it is luxurious, it is custom built and it is one-of-a-kind! We are speaking about the latest DMC Lamborghini, which has been recently showed to the automotive world. This particular project is called DMC Lamborghini LP988 Edizione GT and it has firstly received two special kits: the stage one - Molto Veloce, and the stage two - Spezial Version. What makes it so unique and of course – Limited Edition, is the addition of stage thee – the Edizione-GT through which it has become an unexpected monster.
Edizione-GT or simply E-GT is a built according to the FIA regulations in mind. More importantly – this Lambo is completely street legal! While the major bite is taken by the body kit and the engine upgrade, the customizers at DMC have also added special two tone paint, set of forged alloy wheels as well as updated the interior.
E-GT body kit comes with completely newly designed front and rear bumpers, a breath-taking engine-bonnet replacement with a motor cooling air-scoop and side skirts. The package also features a massive GT-Spoiler, which can be set by hand in three different angles for different aerodynamics.
And you don't even have to look closely to the pictures to see the carbon fiber! It is so much here! The package is completed with a full array of tunnels, flaps and diffusers, all located on the aforementioned parts.
The LP988 also received engine modification via TWIN-TURBO procedure in combination with a reprogrammed ECU. In addition, a set of forged alloy wheels and a new kit of suspensions is what keep the beat on the road.
At last, the package is rounded out through interior refinements. There has been extensively utilized Italian fine leather and carbon finer. Plenty of buttons were added as well as a redesigned steering wheel. There have been rumors going on that this total package cost the driver a the amount of  $288.888 USD.
Source: DMC