Employees Celebrate Nissan Americas Opening
Nissan today celebrated the dedication of Nissan Americas in Franklin, Tenn. The new center serves as regional headquarters for the United States, Canada and Mexico. Tennessee Gov. Phil Bredesen and U.S. Sen. Lamar Alexander joined Nissan President and CEO Carlos Ghosn for opening ceremonies. The day-long event included more than 1,500 employees and members of the community.
Nissan Americas is designed to encourage and inspire cross-functional collaboration within the region. The 10-story, S-shaped facility, designed with numerous environmental features, provides 460,000 square feet of office space. The construction of the new campus was done in partnership with architects Gresham, Smith and Partners, and construction firm Skanska U.S.A. Employees are moving into the building in phases during July and August.
"Nissan Americas is an investment in our future," Ghosn said. "We purposefully designed the building to inspire and enhance collaboration among our employees. The building also is a statement about our confidence in the continued growth of Nissan in the Americas and our unyielding commitment to environmental sustainability."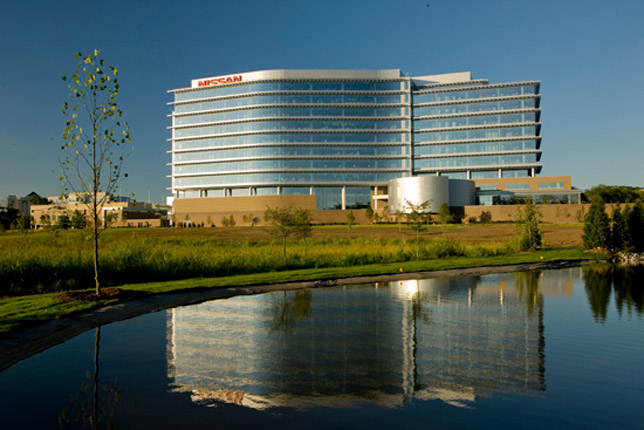 In May, Ghosn unveiled Nissan's five-year business plan, GT 2012, including an outline of Nissan's commitment to leadership in the design, development, manufacture and distribution of zero-emission vehicles. The company will launch electric vehicles in the U.S. and Japan in 2010 and in 2012 for mass-market commercial delivery.
At the dedication, Ghosn announced that Nissan and the State of Tennessee are forming a partnership to promote zero-emission vehicles in Middle Tennessee with participation from the Tennessee Valley Authority and other partners.
Today the company also announced three philanthropic donations to local organizations. Specifically, the company donated $50,000 each to the Boys and Girls Club of Williamson County, Second Harvest Food Bank of Middle Tennessee, and the Harpeth River Watershed Association.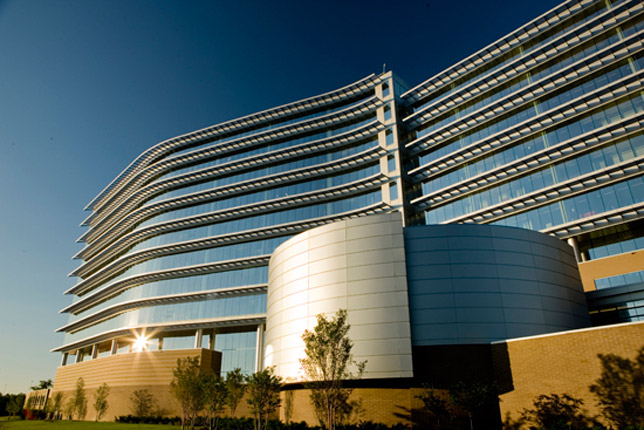 Nissan Americas Campus
The need for inspiring, functional, efficient work spaces and a place to showcase Nissan and Infiniti vehicles guided the design and the construction of Nissan Americas.
Employees and visitors enter Nissan Americas through a three-story lobby featuring a glass wall, which allows light to illuminate the vehicles on display.
On the office floors, the open floor plan has been designed to accommodate and encourage cross-functional collaboration in a setting flooded with natural light and surrounded by views through the glass walls. Other prominent features on each floor are the "town center" housing support functions such as copiers and mailboxes, dozens of meeting places, and alternating staircases and atria, which encourage employee interaction.
The facility also includes a cafeteria and coffee shop, a Nissan and Infiniti merchandise store, video conferencing centers and advanced-technology conference rooms whose features will help employees significantly reduce paper use. The 50-acre campus includes a newly restored 2.5-acre wetlands, a 10,000 square-foot fitness facility, a 4-story parking deck, a natural outdoor space for large gatherings, and ample green space, which connects the campus to the surrounding rolling hills.
Environmental Features
The Nissan Americas campus has numerous features designed to maximize energy efficiency and reduce the impact on the environment. The office building incorporates an efficient under-floor heating and cooling system, with individualized adjustments to maximize comfort and improve energy efficiency. The building's windows are a key design element and use low-emissivity glass, which blocks radiant heat in the summer and traps it indoors in the winter. A key element to the building's energy efficiency is a sunshade system.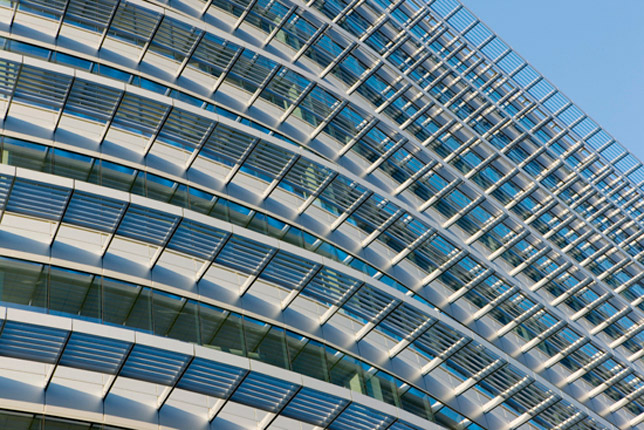 Designed to take advantage of the sun's position in every season, the system reduces the solar load on the building in the summer while maximizing it in the winter. Indoors, sensors detect natural light levels and automatically adjust the lights accordingly for maximum efficiency. Topping off the building is the green roof system. which incorporates 7,500 square feet of six varieties of creeping red sedum. The low-growing plants act as insulation and help reduce energy consumption.
An exceptional feature of Nissan Americas is the 2.5-acre wetlands, now thriving due to Nissan's investment in its restoration. In an effort to restore natural balance to the area while enhancing biodiversity and natural beauty, Nissan has planted more than 50,000 plants native to Middle Tennessee. The wetlands, located on the property's southwest corner, are fed by an underground spring and run-off from nearby retention ponds. Water quality will be improved as water passes through the wetlands. The landscape design features carefully planned green spaces and includes a water-runoff system that captures and collects rainwater from the entire site, directing it to one of two water-control systems for irrigation.
Community Partnerships
Nissan is committed to enriching people's lives in communities in which it operates. To that end, Nissan today announced $50,000 donations to three organizations in the Middle Tennessee community.
The Boys & Girls Club of Williamson County provides programs addressing today's most pressing youth issues and teaching young people the skills they need to succeed in life. Funding will support Project Learn, Power Hour, and Computer Lab Training.
The Second Harvest Food Bank of Middle Tennessee is one of the largest and most comprehensive of over 200 food banks and food distribution centers nationwide, supplying more than 600,000 meals annually. Nissan's support will fund the Second Harvest Backpack program, which provides needy children easy-to-prepare food to take home on weekends and school vacations when other resources are not available.
The Harpeth River Watershed Association's mission is to restore and protect the ecological health and biodiversity of the Harpeth River system for the people, fish and wildlife that depend on it. The wetlands on the Nissan Americas property feed the Harpeth River watershed. Funds will be used to support river restoration, education and outreach in Williamson County.
Nissan in Tennessee
Nissan's presence in Middle Tennessee dates back to 1980, when it announced it would open its first U.S. manufacturing facility in Smyrna. Today, the Smyrna facility builds the Nissan Altima, Maxima, Pathfinder, Frontier and Xterra for the United States and other markets. Nissan's facility in Decherd produces a variety of engines crankshafts, and cylinder-block castings.
In November 2005, Nissan announced it would relocate its corporate offices for the Americas to Tennessee, to better create synergies with its manufacturing facilities in Tennessee and Mississippi, its Technical Center in Farmington Hills, Mich., and its captive-finance operations in Irving, Texas.
The relocation to Middle Tennessee was completed in mid-2006. Since then, employees have been working in temporary facilities in the AT&T building in downtown Nashville and the Parts & Service facility in Franklin, which will continue to stay in operation after the Nashville staff completes its move. Today, about 8,000 Nissan employees call Tennessee home.
In North America, Nissan's operations include automotive styling, engineering, consumer and corporate financing, sales and marketing, distribution and manufacturing. Nissan is dedicated to improving the environment under the Nissan Green Program 2010, whose key priorities are reducing CO2 emissions, cutting other emissions and increasing recycling.