Ford To Showcase New F-150's Versatility At SEMA
America's best-selling pickups for 31 consecutive years are also the most accessorized vehicles in the aftermarket, and this year's Specialty Equipment Market Association (SEMA) show brings new options aplenty for the 2009 Ford F-150. Four F-150 project trucks – running the gamut from a rolling work shop to a functional fun machine – debut at the SEMA show in Las Vegas, which runs Nov. 4-7.
The F-150 Heavy Duty DEWALT Contractor Concept was designed to be the "ultimate contractor's truck," according to Jennifer Ervin, director of Business Development for DEWALT.
"At DEWALT, we are obsessed with developing innovative solutions for the professional contractor that will deliver productivity on the job site," she said. "We have thoroughly thought through how a contractor uses his or her truck on the job, and we've worked hard to integrate every application into the truck."
The DEWALT Contractor includes features such as a built-in charger for battery-powered tools that is hidden in the center console, a customized storage area beneath the second-row seat and Ford Works Solutions™ Tool Link™ from DEWALT.
"Tool Link will enable contractors to know if they have the right tools for the job in the truck when they leave in the morning, and it also helps prevent loss of tools at the end of the day," said Ervin.
Mike Duval, owner of X'Treme Toyz, had something else in mind for the F-150 he dubbed "Fahrenheit F-150°."
"I ride motorcycles, mountain bikes and four wheelers, and I like to go camping," he said. "I wanted to transform the truck into a functional, fun vehicle for outdoorsmen like myself."
In addition to "hot flame" exterior graphics, the Fahrenheit F-150° includes features including a 9,000 lb. winch hidden behind the license plate at the front and rear of the truck; a bike rack across the top rail; and a Bedslide sliding cargo drawer equipped with a toolbox, tire and small compressor.
"You can basically put all of your toys in the truck, hook up the trailer and go," said Duval. "And with the winch on both ends of the truck, you can get pulled in either direction if you get stuck."
Duval says he usually "goes crazy" with the interiors of his show cars, but he didn't see a reason to tamper with the interior of the 2009 F-150.
"I didn't do a whole lot to the interior because the factory did such a fantastic job with the vehicle right out of the gate," he said. "It's got a great stereo system, Ford SYNC™ and a variety of other creature comforts."
In addition to a well-appointed interior, the 2009 F-150 offers customizers like Duval a variety of different options straight from the factory to build upon. The vehicle is available with three cab styles, four box options and seven unique trim levels -- a total of 35 different configurations in all.
Ford Designer Melvin Betancourt says he believes the F-150 is so popular in the aftermarket because in addition to all the "built-in" options available on the vehicle, there are still countless ways for customization enthusiasts to change it up.
"Whether it's adding big tires for off-roading or lowering the truck to give it more of a street performance look, the F-150 is like a blank canvas that you can do almost anything with," said Betancourt. "It all depends on the personality of the owner."
The 2009 Ford F-150s featured at this year's SEMA show include:
2009 Ford F-150 Heavy Duty DEWALT Contractor When there is a job to do, Ford F-Series trucks are the leading choice for the men and women who need to get it done. The 2009 Ford F-150 continues this work truck leadership with even more capability and smart pickup features than ever before.
The Heavy Duty DEWALT Contractor turns the 2009 F-150 into the ultimate tough truck for any job site with features that will drive productivity and help contractors achieve their peak performance. This rugged, durable, hard-working truck is equipped with powertrain mods to improve performance and efficiency plus a long list of custom features that turn it into a rolling work shop. To ensure that they have the right tool at their fingertips for any job, contractors can effectively store and manage their tool inventory through Tool Link and Customized On Board Storage.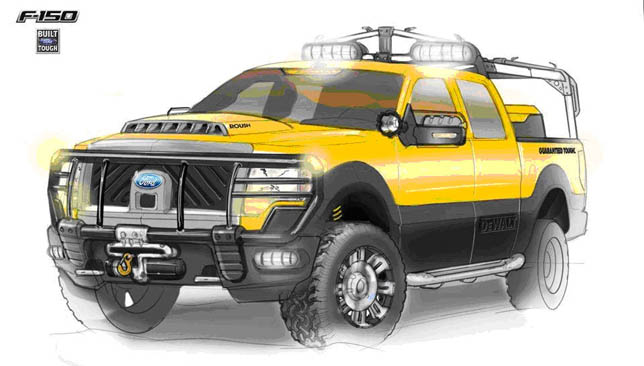 2009 Ford F-150 FX-4 by X-Treme Toyz The 2009 Ford F-150 FX-4 is "Built Ford Tough" for hard work or for rough play. Starting with this extremely capable pickup X-Treme Toyz turns up the heat with its "Fahrenheit F-150."
This highly functional fun machine is totally tricked out for the active outdoor lifestyle enthusiast. With a radically rugged-looking exterior, a luxuriously refined interior plus a full array of functional upgrades and accessories, this truck will put true weekend warriors in the zone. It lets them play rough all day, hose off the mud, then hit the nightspots in style.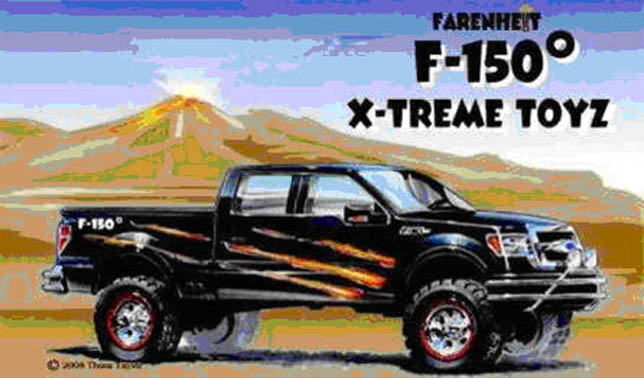 2009 Ford F-150 by Street Scene Equipment The new Ford F-150 Lariat is built for those who don't believe in compromises. It combines "Built Ford Tough" performance and capability with a surprising level of comfort and luxury.
Drawing on years of experience and success in the sport truck market, Street Scene Equipment has taken the no-compromise attitude of the 2009 F-150 Lariat Supercrew to the next level. The result is the perfect combination of head-turning style and tough performance with the level of comfort now expected by today's demanding truck owners. Whether it's putting in a hard day at work, towing a large boat to the lake for a weekend of family fun or a taking friends to a black tie event, the Ford F-150 by Street Scene will get you noticed and get you there in comfort and luxury.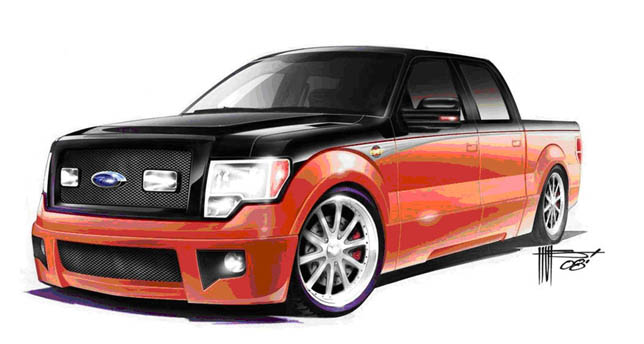 Hi-Pa Drive™ F-150 What's been taken out of this Ford F-150 hinges on what's been put in. The engine, drive train, gear box and all the related parts have been replaced it with the game-changing Hi-Pa Drive™ system. The four electric in-wheel motors that power the fully-electric Hi-Pa Drive F-150 will deliver more than 600 horsepower as well as more torque than the 320 horsepower V-8 engine it replaced. Hi-Pa Drive is helping car designers eliminate oil dependency, carbon emissions and costs, while adding more power, room, performance and design options.