Lincoln MKS, Ford Focus Stand Out At SEMA
With its sleek design and strong wheel base, the all-new 2009 Lincoln MKS is opening doors in the aftermarket for customization enthusiasts looking for a full-size sedan to make their own.
To demonstrate the personalization potential of Lincoln's new flagship sedan, Ford will shine the spotlight on three MKS project vehicles at the Specialty Equipment Market Association (SEMA) show, which will be held Nov. 4-7 in Las Vegas.
"The MKS has many different facets," said Ford designer Melvin Betancourt. "You can hot rod it, add a body kit and still maintain that luxury feel, or you can simply dress it up with a nice set of wheels."
Custom rims are hot in the aftermarket, and unlike many of its competitors in the full-size luxury segment, the MKS was designed to accommodate larger wheels. The stock vehicle comes with 18-inch wheels, and 19- and 20-inch wheels are optional.
"The larger wheelbase gives the option to migrate to a more aggressive, sporty appearance," said Pei-Wen Hsu, Lincoln MKS marketing manager. "It gives customers a way to make the vehicle unique for themselves."
Ernie Bunnell, owner of 3dCarbon, had 22-inch NC Forged aluminum wheels custom designed for his 3dCarbon MKS. He also dressed the vehicle in a five-piece custom body kit.
"The styling of the MKS is very appealing to begin with, but the body kit makes a dramatic difference," he said. "It really jazzes it up and gives it a more European feel."
A "more European feel" is also what Robert K. Smith, president and CEO of RKSport, was trying to achieve with the MKS he customized for the SEMA show.
"We did the car in silver with 20-inch wheels and black rims, and we also brought the car down to a lower profile as far as ride height is concerned to make it more European-looking," he said.
To give the car a more muscular feel, Smith says he added an extractor hood with carbon fiber components that look a little more aggressive than the stock hood. He finished off the look with a black Roadwire leather interior.
"The interior on the MKS is extremely nice," he said. "We applied a bit of silver in the seating area and in the door panels to contrast with the exterior and give it a little more pizzazz."
In addition to the MKS, the 2009 Ford Focus Coupe will also have a presence at the SEMA show with three project vehicles designed to show that a fuel-efficient small car – it gets 35 mpg on the highway -- doesn't have to fall short on performance and style.
"Based on feedback from our customers, we redesigned the Coupe for 2009 to include new front and rear fascias, a new roof-line spoiler and standard 17-inch aluminum wheels on the SES model," said Sam De La Garza, Focus marketing manager. "The vehicle is positioned for the youth market as a good value for the money in terms of power and overall feature content, which really gives us a good step in the right direction for this car in the aftermarket."
Stout Performance worked together with the Barber Driving Experience (BDX) to customize a Focus Coupe for the SEMA show. Chris Stout says he chose the Focus because it offers a very good platform to build upon.
"It's lightweight. The chassis is very stiff, and the suspension geometry is world-class to the point that it was copied by a few other manufacturers," he said.
Stout, who is also an instructor for BDX, says he plans to use the vehicle to teach performance driving on the tracks.
"We added a six-point roll cage, which not only makes the car safer for occupants but it stiffens the chassis a bit, which is what you need on a road course," he said. "We modified the suspension, and we added an F2 Turbo kit for power. So you get better compression, better dampening and a lot more power."
Bunnell, who also customized a Focus for the SEMA show, enhanced the exterior styling with wheels and a custom body kit.
"We added 19-inch wheels and a five-piece body kit that gives the car a sporty look that's lower to the ground without actually lowering the vehicle per se," he said.
In addition to the new MKS and Focus Coupe, Ford will feature other vehicles at SEMA, including the Lincoln MKX, the Ford Edge, Escape and the new Transit Connect. This year's project vehicles include:
2009 Lincoln MKS by Godfather Customs
Designed with crafted precision and intuitive technologies, the 2009 Lincoln MKS is already a vehicle that's in a league of its own. Godfather Customs has moved this singular luxury car even further from the rest of the field with their own version of the MKS.
Building upon the luxurious Lincoln sedan, Godfather added even more refinement to the interior with an OEM integration that allows full control of the audio and video systems. An additional three video screens provide back seat drivers with their own access to state-of-the-art navigation. At the same time the superior audio quality has been further enhanced with the addition of Excelon components. On the outside, signature 22-inch wheels and tires make a statement that can't be ignored. With this edition, Godfather Customs moves the MKS from luxurious elegance to pure extravagance.
2009 Lincoln MKS by 3dCarbon
Lincoln's newest luxury vehicle, the 2009 MKS, defines the future of luxury with a sleek, road-hugging stance and elegant design that exudes power and luxury. Now, this breakthrough American luxury car gets a touch of European flare and luxury styling courtesy of 3dCarbon's "Euro Series" styling kit.
Outfitted with 3dCarbon's five-piece body kit and NC Forged wheels, this MKS looks ready to drive off the showroom directly onto the autobahn. The dramatic 5-piece "Euro Series" styling kit includes front air dam, side skirts, rear lower skirt, and deck lid spoiler.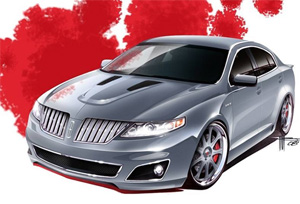 2009 Lincoln MKS by RKSport Not all cars are created equal. Designed with crafted precision and intuitive technologies, the 2009 Lincoln MKS offers a unique, personalized driving and ownership experience that represents the ultimate convergence of performance and luxury.
RKSport started with the signature styling and performance powertrain and added a unique look and enhanced performance that make the 2009 Lincoln MKS even more distinctive to own and exciting to drive. Wherever it goes, this car will make a statement about the discerning owner and provide a personalized luxury performance experience second to none.
2009 Ford Focus Coupe by 3dCarbon
Small cars are big news and the 2009 Ford Focus is a solid contender in this fast growing, quickly evolving segment. 3dCarbon brings their experience and expertise to this important market with the introduction of the 2009 Ford Focus Coupe "Euro Series" Styling Kit.
This radically modified "Euro Series" Focus is outfitted in 3dCarbon's all-new five-piece styling kit that includes a front air dam, side skirts, rear lower skirt and deck lid spoiler. Add high-performance BF Goodrich g-Force T/A KDW tires mounted on R1 Racing GTR-4 wheels and you've got a small car that delivers on the promise of its sporty European good looks. This modified Focus makes for a vehicle that exudes confidence with a brash stance and aerodynamic, road-hugging attitude. On the inside, it features fine and fun touches that include Katzkin leather trim, a suede headliner and Sundial tinted windows.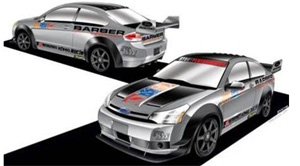 2009 Ford Focus Coupe by Stout Performance and Barber Driving Experience
The 2009 Ford Focus is built to deliver serious fun. Starting with this capable platform, Stout Performance worked with the Barber Driver Experience to create a vehicle also built for serious competition.
This modified Focus offers dual purpose use, both as a contender in time attack races and as vehicle for the Barber Driving Experience performance driving instruction. It features functional aerodynamics, chassis stiffening via a roll cage, and a high output powerplant. With only mods that are in the spirit of street class competition, this specially prepared Focus will be a true contender on the race course.
(No photo available at publication) - 2009 Ford Focus Coupe by FSWerks
The 2009 Focus SES coupe has a sharp new look and a long list of equipment designed to deliver an exhilarating driving experience. Focus SES is the coupe for those who want it all…great fuel economy, attention-getting style and responsive performance.
Drawing on years of performance tuning success, the FSWerks crew has taken the newly restyled Focus coupe and transformed it into a head turning example of performance and cutting edge style. It has a bold, bad, attention-grabbing look and the guts to with it, delivering more than double the horsepower and torque of the sporty Focus SES. Yet, this high performance, high-profile coupe is still refined enough for daily driving in comfort and style.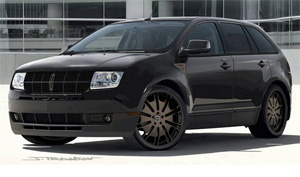 2008 Lincoln MKX by Street Concepts
The 2008 Lincoln MKX combines capability with luxury and performance in a head-turning package that gets noticed wherever it goes. The available intelligent all-wheel-drive system helps drivers handle the curves and keep a grip on things in any weather while traveling in style and comfort.
The Street Concepts version adds some serious attitude to the Lincoln MKX with 22-inch MOZ Wheels, Continental Tires, 3DCarbon's body kit and monochrome blackout exterior treatment. On the inside, it entertains and connects with a complete Kenwood audio and video system that includes a Visulogic VMOD unit for wireless internet within the vehicle. For added driving excitement, this proven performer gets a sweet-sounding Magna flow cat back exhaust system and easy breathing K&N air intake system.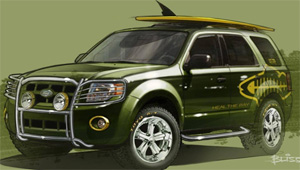 2009 Ford Escape Hybrid by EcoTrek
For those who really care about saving gas and saving our planet, Ford made Escape Hybrid the most fuel efficient SUV on the planet. Now for the ultimate environmentalist, EcoTrek offers a Ford Escape Hybrid with the ultimate "Environmental Integration" package.
In this uniquely green vehicle, EcoTrek augments the earth-friendly features of Ford's revolutionary hybrid SUV with premium components made from recycled and recyclable materials. The interior includes rugged yet luxurious faux leather suede seat covers and carpeted floor mats made from recycled plastics. Key exterior parts, including the tires, wheels, running boards and the skid plate, are all made from reusable materials. Despite this serious commitment to being green, the Escape Hybrid from EcoTrek is also equipped for ultimate fun with enhanced off-road capability and a Hobie watercraft used to assist San Francisco's Heal the Bay efforts.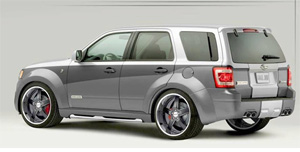 2009 Ford Escape by HPA Motorsports Inc.
For active people with demanding lifestyles, the 2009 Ford Escape delivers driving fun and practical utility in the city or in the wilderness. The "Sport" Edition 2009 Ford Escape from HPA Motorsports takes this unique blend of off-road potential and urban performance to the extreme.
Custom wide body flares and brawny exterior styling cues present a street stance worthy of the sure-footed "intelligent" 4WD system. The finely tuned suspension delivers no-compromise handling on or off the road while passengers can chill out and enjoy the comfortable ride with today's hottest in-car-entertainment.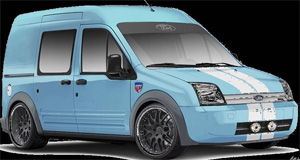 Ford Transit Connect Concept by H&R Special Springs, LP
The award-winning Transit Connect has established a reputation as the best small cargo van in Europe. In the summer of 2009 this segment busting versatile workhorse will be coming to America.
H&R has taken the popular Ford Transit Connect, redefined it into a get-up-and-go stylin' street van like no other. Their Transit Connect has been lowered 3 inches in the front, and 4 inches in the rear, enhancing the visual impact of the huge 19-inch tires and wheels. Piloti shoes drew on their design expertise to create a unique interior that employs fine high fashion materials showcasing a palette of colors and textures with the finest workmanship. This unique treatment of a breakthrough vehicle explores the range of customization possibilities for Transit Connect.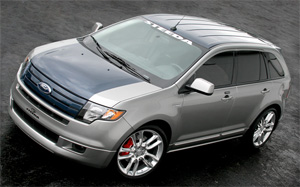 2009 Ford Edge "Sport" Edition by Steeda
The 2009 Ford Edge Sport offers a factory-quality, customized crossover for buyers who want added attitude. This customized version of America's best-selling crossover is available from Ford dealers with many of the appearance mods seen here, including 22-inch polished aluminum rims, an attractive 8-piece body kit, blackout headlamps and taillamps, a dark brushed interior center stack, bold contrast stitching on the shift knob and steering wheel, and the Edge Sport badging.
Drawing on two decades of experience working exclusively with Ford products, Steeda took the 2009 Ford Edge Sport to another level. A host of performance mods provide added power and even sportier handling. On the inside, leather seats and billeted trim deliver increased comfort and amped-up attitude. Unique Steeda graphics let the whole world know that this Edge Sport is something very special.