Ford Focus Wrapped With Special 'Green' Designs Showcase At "100 Designs To Save The World"
Inspired by "green" energy in motion, Ford Thailand brand ambassador "Tata Young" and two leading designers "Vasu Virajsilp" and "Issariya Virajsilp" will unveil three Ford Focus wrapped with special graphic designs at the "100 Designs to Save the World" show. The country's biggest "green" design masterpiece exhibition will be held at Siam Discovery Center from December 15-21, 2008.
Ford, with its commitment to environmental friendly vehicle development, immediately accepted Siam Discovery Center's invitation to participate in the exhibition. Aimed to raise awareness and encourage public participation in reducing impact from global warming while conserving natural resources, the event will showcase one hundred unique art works created by leading Thai and foreign designers, including the young ones, who value natural resources conservation.
At the exhibition, Ford will showcase three special E20-capable "Ford Focus" wrapped in special graphic designs. Each of the graphic designs is created by three leading avant-garde designers who not only express their design point of view for the environment but also amplify Ford Focus' green positioning, all blended in their own unique styles.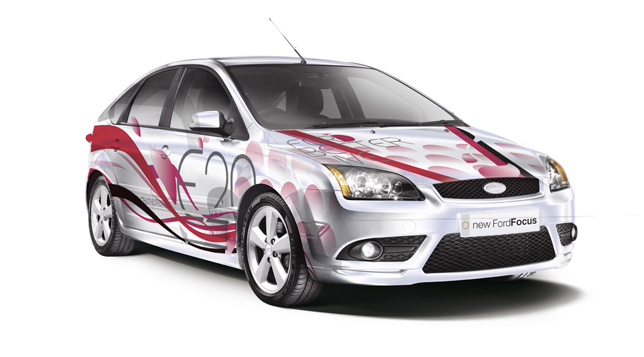 Saroj Kiatfuengfoo, senior vice president of Ford Thailand, concluded, "Ford did not hesitate to join the "100 Designs to Save the World" exhibition because the main concept of the exhibition is very much in line well with our environment policy. Environment, design and quality are always the core of our product development.
"The new Ford Focus is a clear example. From exterior to interior, the passenger car turns head with the contemporary appearance with kinetic design cue that makes it looks sophisticated and distinctive in all dimensions. When combined with three special graphic designs by our guest designers, the three special Focus will definitely inspire viewers to choose environmental friendly products and use natural resources wisely and responsibly. Sustainability can be achieved and it starts with us all," said Kiatfuengfoo.
Vasu Virajsilp, a young architect and the owner of VasLab design studio who create graphic design for one of the showcased Focus, said, "As an architect myself, I am particularly interested in materials, structure and texture. When I was invited to design graphic wraps for the stylish Ford Focus, which is the first E20-capable car on the market, I find this task both challenging and inspiring. I studied more about E20 and searched deeper to find more inspiration. I found out that ethanol comes from sugarcane. I also found that sugarcane bagasse has an interesting two-dimension fiber structure and form. Looking through a microscope, I saw the amazing structure of the fiber and that's how I got my inspiration."
Vasu added that from the sugarcane bagasse fiber structure, he invented a new two dimension graphic. "By adding kinetic design elements to this interesting 2D form and structure of the sugarcane bagasse, I have created a new design that clearly reflects the "energy in motion" look and feel of the Ford Focus. The result is my own and very unique Ford Focus with a distinctive design that I call "kinetic lines".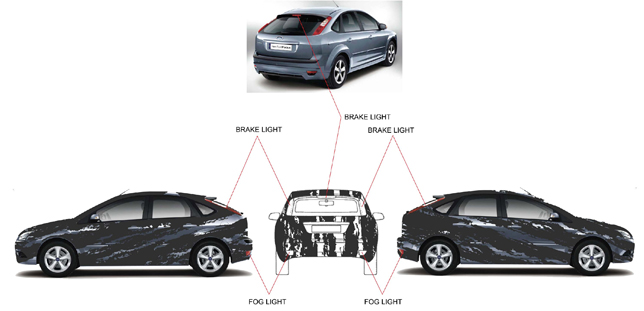 Another talented designer designing special graphic design for the Ford Focus is Issariya Virajsilp, the founder of "Inspired by Inner Complexity" fashion brand. She also lent her talent in creating what she calls a "Fabulous Fabric" graphic design for this special occasion.
"Clothes are like billboards. We can write anything, paint any pictures to inspire people to wake up and start to preserve the environment," she said. "A car resembles a human body. It has beautiful curves and structure. Wrapping a car is like creating a nice outfit for a person, an outfit that has to enhance the beauty of the wearer's body. The Ford Focus is outstanding with its premium European styling and contemporary design with a touch of sporty and athletic looks. So, I think, it needs a very special graphic design that further strengthens this unique characteristic. I have also added a bit of my own signature lines and designs plus other elements that reflect the "green" concept of this very interesting car."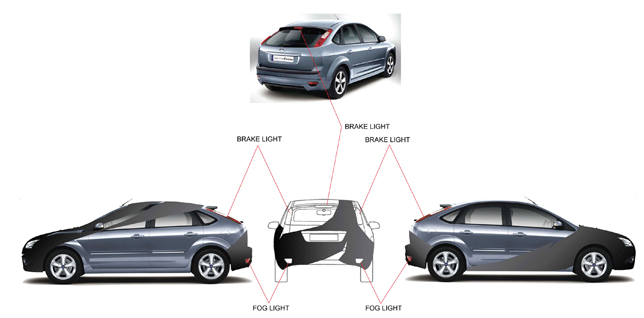 Joining the two avant-garde designers is Ford brand ambassador Tata Young. "As a Ford driver myself, I am more concerned with environment because my Focus can use alternative fuel. I feel great driving a great car and at the same time doing my part in protecting the environment.
"I am pleased to join this project. I chose the "peace" symbol to communicate with all the viewers that the world is not as peaceful as it should be because we consume more natural resources than necessary. I wish everybody realizes this and starts to lend a helping hand. I also selected several patterns and vibrant colors to make my "Eco Blossom" graphic, as I call it, more dynamic and as lively as myself."
The three special Ford Focus wrapped in the unique graphic design are available for viewing at the "100 Designs to Save the World" Exhibition. The country's first and largest design exhibition under natural conservation concept is on from December 15-21, 2008 at Siam Discovery Center.
Ford Focus is the first Flexifuel vehicle available in Thailand. Its launch in late 2005 marked a new milestone in the country's alternative energy space because it is the very first vehicle in Thailand that can be filled up with 95-octane benzene, E10 or E20 fuel (20 percent ethanol and 80 percent benzene blend). Following in late 2007, Ford Focus TDCi arrived in Thailand and became the first compact passenger car powered by 2.0L turbo diesel commonrail engine on the market and it provides greater fuel efficiency, fuel economy and environmental friendliness.
In addition to engine technology, the Ford Focus is well known for its distinctive European styling appreciated by young urban people with discerning taste who choose only the best quality products for themselves. Over 80 awards it won from many countries worldwide, including the recently won "Green Car Non-Hybrid Award" in Indonesia, are the best testimonies of its outstanding design, dynamism, quality and performance.