Ford Transit XXL
Ford of Europe's Commercial Vehicle development team, based at the company's Dunton Technical Centre in the UK, is celebrating the Ford Transit's status as International Van of the Year 2007, by creating an unusual one-off special – the Transit XXL.
Transit XXL literally stretches the Transit Tourneo passenger vehicle to new lengths, and could well be the longest Ford Transit in the world!
Designed and built by the Transit team at Dunton as a special project, Transit XXL uses 'off the shelf' Ford Transit components throughout. It is based on two short wheel base Transit Tourneo models which have been meticulously joined together to deliver a bespoke limousine that carries the driver plus seven passengers in full 'first class' comfort.
Every passenger benefits from a leather-trimmed, seven-way fully adjustable Transit 'Captain's Seat' complete with heating, lumbar adjustment and armrest. As you would expect, legroom and shoulder room are extensive!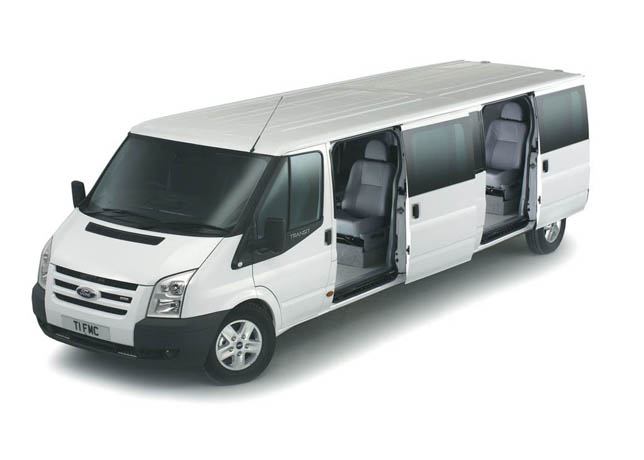 This one-off vehicle has been designed to further demonstrate the Ford Transit's flexibility and capabilities. It measures 7.4 metres in length and has a wheelbase of 5.9 metres. This compares to the standard Tourneo length of almost 4.9 metres and wheelbase of 2.9 metres.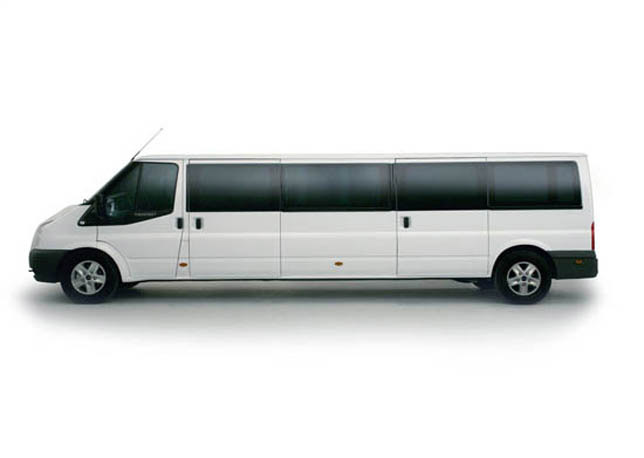 Transit XXL also features four full sliding doors – two on each side – while the entire vehicle benefits from privacy glass allowing occupants to be transported in appropriate anonymity. The four opening side doors of the Transit XXL are complemented by the fact that it's a right hand drive van. When used in left hand drive countries, the Transit XXL driver can stop at the kerbside and be ready quickly to help passengers get in to or out of the vehicle – something that drivers of long limousine vehicles understand and appreciate.
The interior also features a fully fitted carpet made from the standard Tourneo item, and a floor to roof carpeted bulkhead behind the rearmost pair of seats which creates a separate luggage compartment accessible only through the tailgate-style rear door.
Passenger comfort is maximised through the use of front and rear air conditioning, with the rear being controlled via the passenger compartment making this literally the coolest Transit to travel in.
The team isn't finished yet, and has plans to install a full in-vehicle entertainment system, including DVD player and games consoles, with individual monitors.
Still a Transit at Heart
Transit XXL is powered by a completely standard Ford 2.2-litre, 130PS Duratorq TDCi engine, though the 5-speed gearbox has been specially adapted and tuned for optimum gearing to deliver enhanced mid-range performance. The braking system has also been upgraded and uses self-adjusting, servo-assisted front and rear discs. The body construction for Transit XXL features extensive strengthening under the floor and in the roof to ensure that the vehicle is torsionally rigid and safe. It has an unladen weight of 2500kg. Using an FT350 front wheel drive model, the suspension has been enhanced to give the necessary gross vehicle weight of 3500kg, enabling Transit XXL to be fully laden with passengers and their luggage
Finished in Frozen White, the Transit XXL retains many of its original standard features, including satellite navigation, Bluetooth® capability, top-of-the-range Ford audio equipment, heated front screen and – perhaps most importantly – reversing sensors.
"The Transit team spent a huge amount of their personal time putting together the Transit XXL, and we're delighted with the result," said Barry Gale, Ford of Europe's Chief Engineer for Commercial Vehicles. "It was a challenging project but the core vehicle's strengths and flexibility have helped the end result to be easy to drive and very comfortable to ride in.
"Ford has a history of building unusual one-off, fun vehicles that have become legends – the Transit Supervan series, our World Rally Transit and most recently the Transit Connect X-Press which used the powertrain of the Focus RS to create a hugely entertaining vehicle," said Gale. "Transit XXL takes us in a different direction as we wanted to show that the refinement of the new Transit allows it to be a limousine. One thing is for sure – it provokes amazing reactions from all who see it!"