G-Power BMW M6 F13 - 710HP and 890Nm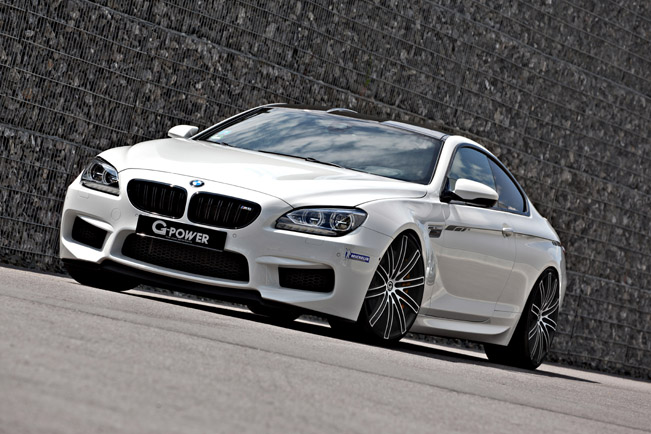 G-Power has announced their latest project based on BMW M6 F13 (Coupe version). It comes with a number of upgrades including G-POWER Bi-Tronik III V2 performance package, new brakes, suspension, wheels and styling modifications.
The 4.4 liter twin-turbo V8 is boosted to 710HP (522 kW) at 6,000RPM and 890Nm (656 lb-ft) at 4,800RPM of torque. This is an increase of 150HP and 210Nm. However, there is a "softer" version with 640HP (471 kW) and 777Nm (573 lb-ft). 0-200 km/h in 10.8 seconds and a top speed of over 300 km/h (186 mph).
The result is thanks to a number of upgrades including an ECU re-map, a new sports exhaust system with titanium link pipes, which is also 12 kg lighter than the original.
The M6 F13 rolls enormous 21" HURRICANE forged wheels fitted with 265/30 ZR21 front and 305/25 ZR21 rear tires - €8,325. For improved handling and better stance, G-Power offers coilover suspension for €2,179, while the carbon ceramic brakes will cost you €14,460. The perfomrnace packages start from €17,985.
G-POWER M6 F13
710 hp / 522 kW at 6.000 - 7.000 rpm (+ 150 hp / 110 kW)
890 Nm at 4.800 rpm (+ 210 Nm)
V-max: >300 km/h
0-200 km/h: 10,8s
G-POWER 21'' forged wheel set HURRICANE
G-POWER Titanium exhaust system
G-POWER coil-over suspension GM6-RS
G-POWER Ceramic Braking System
Source: G-Power