G-POWER BMW X6 M Typhoon Wide Body
G-Power has revealed BMW X6 M Typhoon with new wide-body kit made from PU RIM. The vehicle is practically the same like G-Power X6 M Typhoon S except the aerodynamics package. Thanks to optimised air flow and up to 15% more cooling, the G-POWER body kit clears the way for an increase in the base output of the mighty engine with 170PS.
The X6 M Typhoon wide body is powered by the same 4.4 liter twin-turbocharged V8 coming with an ECU re-map, a stainless steel sport exhaust system, modified cylinder heads,  new exhaust manifolds and new connection pipes between the turbochargers. The result of all this tuning is no less than 725PS (533 kW) and 890Nm (656 lb-ft) of torque, which is an increase of 170PS (125 kW) and 210Nm (155 lb-ft) over the stock. From 0 to 100 km/h in 4.2 seconds and top speed is over 300 km/h (186 mph).
The big SAC (Sports Activity Coupe) stands on enormous 11J x 23" up front and 12J x 23" for the rear axle fitted with 315/25 ZR 23 high-performance tires from Michelin. The suspension features G-Power coilovers and a 30 mm lower ride height. The separate and independently adjustable rebound- and compression damping allows for an individual suspension setup.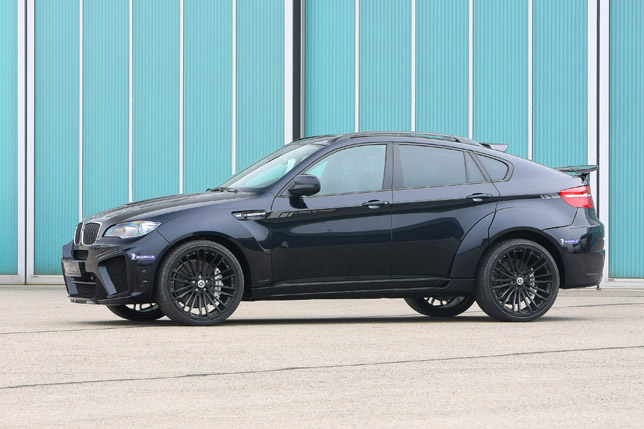 The G-POWER X6 M TYPHOON wide body kit is produced in OEM quality and features muscular flared wheel arches plus distinctive skirts and spoilers on the front and rear trimmed for maximum aerodynamic efficiency. The body kit is made from PU RIM and has been developed by G-POWER designers using state-of-the-art CAD technology.
Pricing for the TYPHOON aerodynamics package starts at € 13 361-- by G-POWER in Autenzell, the optional G-POWER VENTURI hood is € 5 865. The price for the 23" G-POWER SILVERSTONE RS or EDITION wheel set with MICHELIN tyres is € 8 865. The G-POWER GX6M-RS coilover suspension is € 3 029. The G-POWER Bi-Tronik V3 output enhancement to 725PS including complete exhaust system and modifications to the turbocharger installation is available for € 13 526. The G-POWER ceramic braking system for the front axle is € 14 460 and € 11 778 for the rear axle. All prices are net prices plus installation.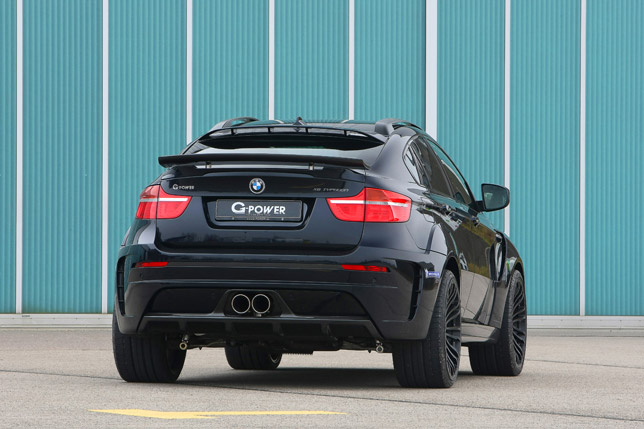 G-POWER X6 M TYPHOON: • 725 hp / 533 kW at 6,000 r/min (+ 170 hp / 125 kW) • 890 Nm at 1,500 r/min (+ 210 Nm) • V max – more than 300 km/h • 0-100 km/h – 4.2s • TYPHOON aerodynamic package starting at € 13.361,-- (net) • G-POWER Bi-Tronik V3 performance enhancement to 725 hp starting at € 13.526,-- (net)
Source: G-Power