GeigerCars Chevrolet Corvette C7 Stingray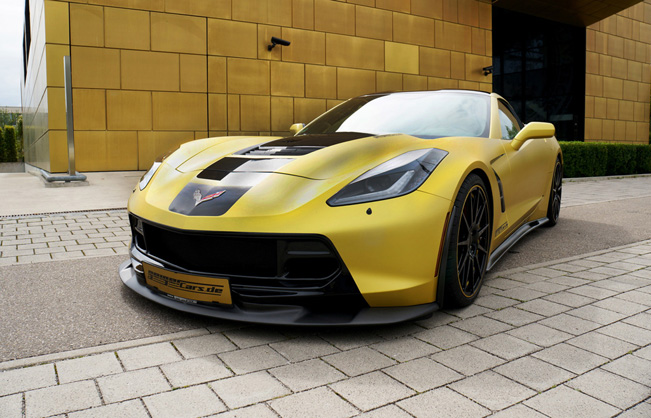 There is much technology going with the GeigerCars Chevrolet Corvette C7 Convertible. Starting with V8 engine, 460 PS, 630 Nm (464 lb-ft) torque, launch control, magnetic selective ride control suspension and more. GeigerCars provides: exclusive GeigerCars body kit made of carbon as well as adjustable "KW" variant 3 coil-over suspension and a compressor conversion to 590 hp (514 kW) & 757 Nm (558 lb-ft) of torque.
An "Eaton" compressor gives the original V8 engine, an increased performance of 130 hp. Furthermore, the torque is increased by 145 Nm (106 lb-ft). Overall GeigerCars' C7 has 590 hp (324 kW) and a torque of 757 Nm (558 lb-ft), which allows it to reach top speed of 320 km/h (198 mph).
A specifically designed body kit, with carbon fibre which further increases to the aerodynamics improvement along with a special GeigerCars rear bumper makes this ride even more powerful and beautiful than ever before. A special "motorsport gold" paint improves the car's visuals. The front consists of more flaps on the right and left, and a nice front grille.
This beautiful ride has a V8 compressor engine with displacement of 6,162 ccm, reaching the dazzling 434 kW (590 hp), enough to produce torque of 757 Nm (558 lb-ft), with a 7-speed manual transmission. Fuel consumption in city area is 19.1(EU l/100 km) 14(UK mpg) 12(US mpg) and out of town 7.8(EU l/100 km) (36 UK mpg) 30(US mpg) combined 12 (EU l/100 km) (23 UK mpg) 19 (US mpg). CO² emission combined (g/km) is 279.
A couple of additional features of the Chevrolet Corvette C7 Stingray include improved aerodynamics, new suspension tuning and cooling. The starting price of €74,500 includes those features and other ones which are not met in any other car brand.
The new 2014 Chevrolet Corvette C7 is available both as a coupé or cabrio along with the GeigerCars.de improvements or without it.
Source: Chevrolet