GeigerCars.de and the 710HP Aero Dodge Viper GTS R710

GeigerCars.de are tuning experts known for their quality work on American supercars. One of the most famous and iconic old style US muscle cars that they have been lately working on is the Dodge Viper GTS R710. Under the bonnet of this car sleeps the beastie naturally aspirated 8.4-litre V10 motor. And as a matter of fact, the reputation of the Viper was built exactly on that engine. As a standard, the unit produces 649 hp (478 kW) and 814 Nm (601 lb-ft) of torque.
GeigerCars.de stepped on this basis and added some valuable changes to the appearance and the power output via a power-upgrade kit and carbon aero kit. Some extras to the suspension are also there.
Power Increase

Helping the engine breathe more deeply is the modified airbox and bespoke exhaust system, featuring tubular headers and sport catalysts. In addition, the ECU remap alters the fuel and ignition, thus using extra air. As a result, the engine pumps out 710 hp (522 kW) at 6,100rpm and 861 Nm (635 lb-ft) of torque at 5,500rpm.
SEE ALSO: GeigerCars.de Created The Most Powerful Chevy Corvette Z06 Ever!
Another spectacular effect was achieved. The Geiger Cars.de Viper GTS 710R catapults itself to 100km/h in just only 2.9 seconds. And by the way, it is so powerful that it can accelerate to a 341 km/h top speed.
We should also mention that the performance tuning also adds new exhaust headers, sport catalysts, sport exhaust, besides the airbox and ECU remap.
Aero Kit & Better Suspension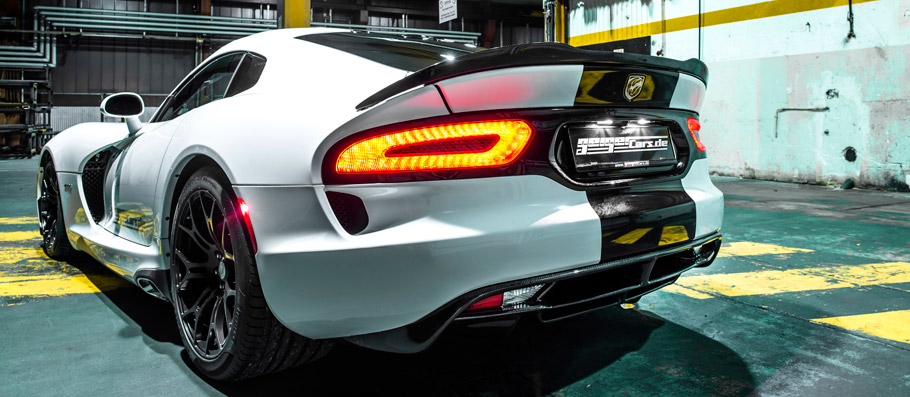 The Viper is tied to the ground via its new KW Variant 2 coil-over suspension kit. It drops the ride height by 30 mm. In fact, the kit also features 16-step adjustable rebound control that optimizes the grip of the tires. Speaking of rubbers, the snake runs on 295/30ZR18 up front and 355/30ZR19 at the rear.
At last, the in-house made carbon-fibre aerodynamic kit comprises of components that reduce the weight of the car. It features front spoiler lip with matching rear spoiler as well as apron insert with diffuser. Don't you think that these lacquered carbon-fibre components look fantastic when highlighted against the contrasting body color!
Source: GeigerCars.de