Glock Rocks On Two Wheels
Panasonic Toyota Racing driver Timo Glock has experienced a unique view of Melbourne in the lead-up to this Sunday's Australian Grand Prix by driving a Toyota Hilux on two wheels.
Glock spent the day at Calder Park Raceway north of Melbourne where he learnt the secrets of stunt driving from the renowned Toyota V6 Hilux Heroes stunt driving team. 
The team, which performs nationally at leading metro, regional and rural shows in slightly modified versions of the 4x2 V6-powered Toyota Hilux, is made up of Australia's leading professional drivers.
Glock was tutored by Guinness World Record holder, Lawrence 'The Legend' Ryan, and the team's lead driver Jack Monkhouse, who showed off the finer points of two-wheel driving before unleashing the F1 pilot behind the wheel.
The 27-year-old German was fearless in his approach. Using the determination that took him to second place in last season's Hungarian Grand Prix, Glock mastered the extremely difficult trick at just his third attempt.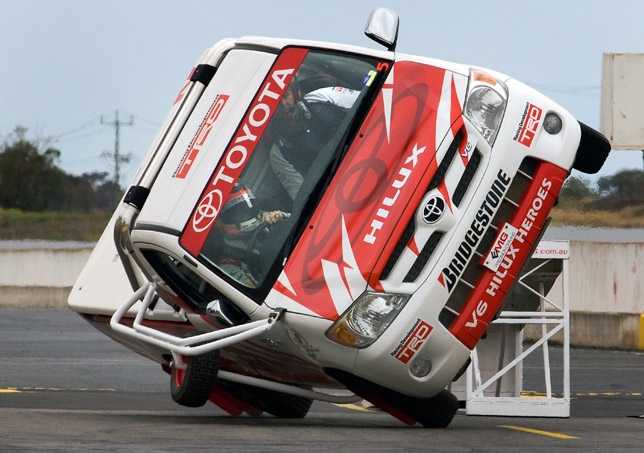 The Toyota F1 pilot then repeated the feat a number of times - piloting the near-standard Hilux a staggering 60 metres on two wheels on his final run.
He then moved on to doughnuts and formation driving where he entertained a large group of invited media with his prowess behind the wheel.
Despite adapting quickly to the driving technique required to perform the tricks, the man who finished 10th last year in his first full season of Formula 1 has his eyes firmly fixed on this weekend's season-opening race.
"This was a lot of fun," Glock said of his stunt driving cameo. "Although, I think it would be a little hard to drive a Formula 1 car on two wheels."
Glock believes the team can succeed if it transfers its testing pace to the races.
"We did strong development in the latter half of last season and my dream was to take this development curve over into 2009. It looks like we have done this with the pace the car has had from the beginning," Glock said.
"In all conditions the car looks strong. But testing is different to racing, so we have to see how the car performs in qualifying, but my perfect dream would be to win the first race of the season."
Glock topped the time sheets twice during the final pre-season test in the team's new TF109 race car, proving both he and the team will be a threat at Albert Park this weekend.