2014 GMC Sierra Pick-Up With Improved Aerodynamics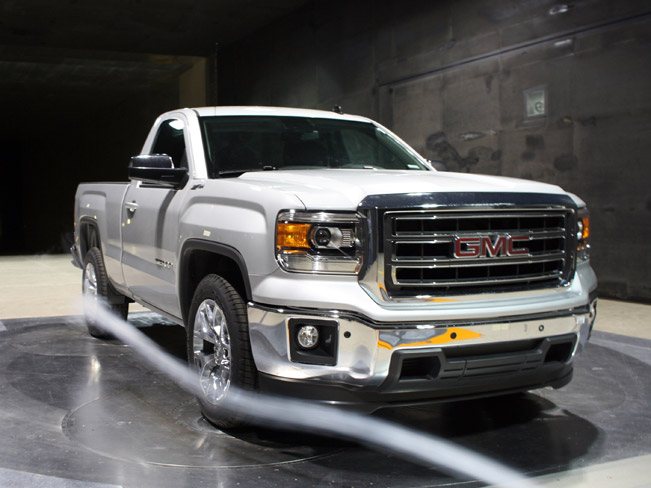 2014 GMC Sierra full-size pick-up truck will now offer its customers new and exclusive designe changes as well as enhanced interior quietness. The vehicle has spent more development time in a wind tunnel than any GMC pickup thus achieving the afore mentioned changes as well as better fuel economy.
The improved airflow is a result of a study how the air passes over, under and around the Sierra. The engineers utilized for this purpose the Aerodynamics Lab, which is a 750-foot-long tunnel through which a 43-foot-diameter fan powered by a DC electric motor with the equivalent of 4,500 horsepower can generate winds of up to 138 mph.
As a matter of fact, a consequence of the aerodynamic improvements is the new air dam below the 2014 Sierra's front bumper. It reduces drag through directing the air toward the ground and away from the truck's rough underbody. In addition, vehicle's ducted flow path between the grille and radiator stops the air from swirling inside the truck's front cavities.
What is more, the air is guided flawlessly around this GMC's tailgate and the center high-mounted stop light. These elements were optimized for this purpose. Additionally, a new sealing has been added which prevents the unwanted airflow between the cab and bed.
Added noise and increased fuel consumption is a result of add-ons like bug deflectors on the hood, wider tires, aftermarket bumpers or lower tailgate. In fact, when the tailgate is in the up position then the car should be more aerodynamically efficient.
Therefore the accessories that can be used as aerodynamics-enhancers are the soft covers and fully integrated flush-mount running boards which can also help air flow smoothly down the truck's sides and can provide a minor improvement to the truck's drag coefficient.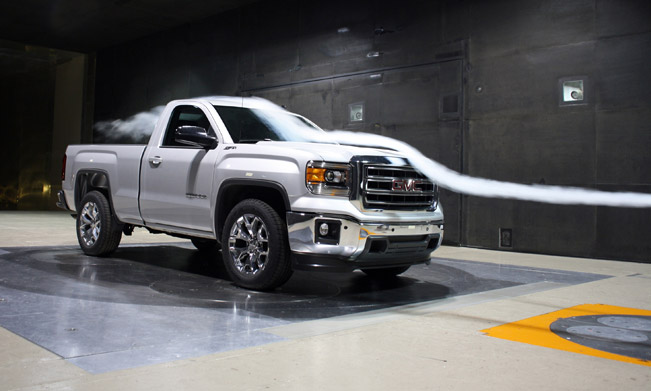 Source: GMC